Emory MDP students work on largest urban redevelopment project in the nation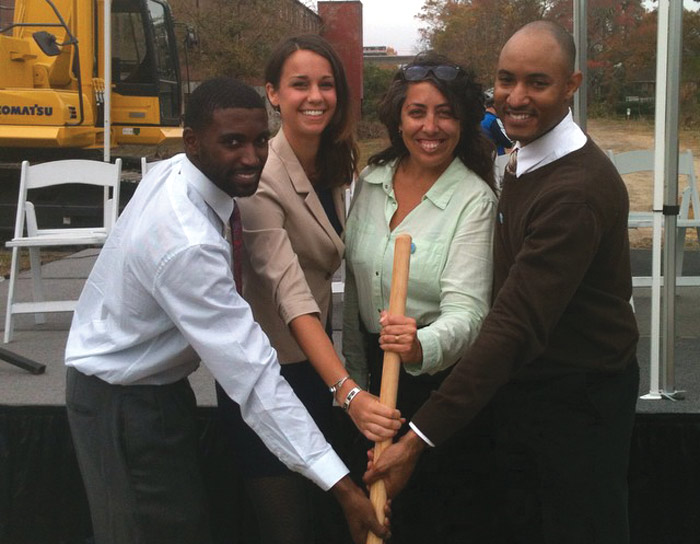 Emory MDP has partnered with many local Atlanta based nonprofits and NGOs since its inception so that MDP students could engage in field practicum experiences that connect local and global issues. One of these local organizations, Atlanta BeltLine Inc (ABI), has hired several MDP students as consultants and in fellowship positions over the past three years. ABI is the most comprehensive transportation and economic development effort ever undertaken in the City of Atlanta and the largest, most wide-ranging urban redevelopment program underway in the United States. In addition, ABI continues to be recognized through awards internationally for its stellar design and comprehensive urban scope. The ABI Fellowship program is highly competitive, with applicants from across the nation.
The ABI - MDP connection was pioneered by Sarah Brooks (MDP '13) who worked as a consultant to ABI, serving with the City of Atlanta as part of the BeltLine's economic development initiative. Two MDP students were selected as academic Fellows for the 2014 - 2015 year; Paulita Bennett-Martin (MDP '16), awarded the Community Planning and Development Fellowship, and Tanya Witlen (MDP '16) awarded the Affordable Housing Fellowship Both Fellows worked on transformative projects for urban Atlanta.
Witlen worked on a highly anticipated " owner occupied rehabilitation and down payment assistance plan" in collaboration with Federal Home Loan Bank Atlanta. The housing plan was created to encourage home ownership and revitalization of current owners in BeltLine communities. Witlen's contribution included development of outreach materials to prepare grant seekers for the application process, and community engagement throughout much of southwest Atlanta. She said the primary focus of her work was "on inclusion, and focused on marginalized populations". ABI Housing Policy & Development Director, James Alexander described Tanya as "a critical member of the Atlanta BeltLine Team. She guided, advertised, and helped launch a down payment assistance and owner occupied rehabilitation program along the Atlanta BeltLine that is helping dozens of families afford homes".   
Bennett-Martin's year was spent doing community outreach, development of I-Mix zoning codes, and Environmental Justice (EJ). The newly proposed I-Mix zoning code, is intended to revitalize areas within the City of Atlanta by accommodating a mix of low impact production, multifamily residential, live work, light industrial, and commercial uses; what many places are now calling Innovation Districts.  The EJ framework was designed to for use by all project managers to monitor and report potential impacts on: air quality, water quality, noise, cultural resources, and biodiversity, in communities surrounding the BeltLine. Beth McMillan, Community Planning & Engagement Director, explained the meaningfulness of this work by saying "this EJ framework contributes in a great way to the security of thoughtful planning for all projects in the future of ABI, which is an internationally awarded and recognized leader in urban redevelopment".
Both students say that their time with ABI was highly beneficial in different ways. ABI Fellowships are awarded annually for academic year Fellows, and Summer Fellows, and are hands on development experience in the US context.
---
Photo: BeltLine Westside Trail Ground Breaking, MDP ('16) Students Tanya Wilten and Paulita Bennett-Martin in center