Liza Vertinsky, PhD, JD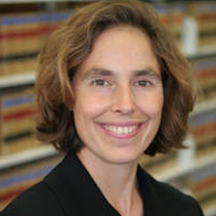 Role: PhD, JD Assistant Professor of Law, Emory Law School
  Contact: lvertin@emory.edu
 Scholarship:
Innovation | Access to Medicines | Intellectual Property | Contractual Structures
Liza Vertinsky joined the Emory Law faculty in the fall of 2007 as an assistant professor.  She teaches contracts, intellectual property licensing, and IP and Global Health & Development.
Professor Vertinsky comes to Emory from the law firm of Wolf, Greenfield and Sacks, where she worked as a senior associate and then as counsel to the firm's Intellectual Property Transactions Practice Group, specializing in intellectual property licensing. Prior to Wolf Greenfield, Professor Vertinsky worked as an associate for the general practice law firm Hill & Barlow in the areas of corporate and intellectual property law.  She builds on a practical background of assisting entrepreneurs, emerging companies and universities with strategic issues involving the development, acquisition and leveraging of intellectual property to address contemporary issues involving IP licensing and technology transfer.  Her areas of expertise include intellectual property, IP transactions, and law and economics.
Professor Vertinsky has a strong interest in the intersection of intellectual property and global health and development, and since coming to Emory she has helped to develop Emory's global health law and policy project.  This project incorporates both curriculum, scholarship, and partnership building around contemporary issues of global health law.  She is affiliated with Emory's Vulnerability Project, where she explores the connection between innovation and vulnerability and the roles that intellectual property does and/or can play in addressing or impeding access to health and economic development.
Professor Vertinsky clerked for Judge Stanley Marcus, first for the U.S. District Court in the Southern District of Florida and then for the Eleventh Circuit Court of Appeals. Her publications include a book on the economic organization of street gangs, the subject of her PhD research.
Education: JD, Harvard Law School, 1997; MA, Economics, University of British Columbia, 1992; PhD, Economics, Harvard University, 1997.