Melissa Carter, JD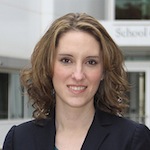 Role: Executive Director of the Barton Child Law and Policy Center, Emory University
  Contact: melissa.d.carter@emory.edu
 Scholarship:
Juvenile Justice | Child Welfare | Child Advocacy | Foster Care | Children's Rights
Melissa Carter is the Executive Director of the Barton Child Law and Policy Center.  The mission of the Barton Center is to promote and protect the legal rights and interests of abused, neglected and court-involved children through research-based legislative and policy advocacy and holistic representation, and to cultivate dedicated and knowledgeable juvenile law professionals.  As Executive Director, Carter is responsible for the administration of the Center and its offerings, including supervision of clinical faculty, staff and students; development of curricula; clinical instruction and classroom teaching; fundraising and budget management; and directing the Center's public relations and strategic partnerships. 
Prior to joining the law faculty, Carter served as the appointed state Child Advocate, leading the staff of the Office of the Child Advocate in the fulfillment of the executive agency's statutory mandates to provide independent oversight of the child welfare system and coordination of activities related to child injury and fatality review and prevention.  She has extensive experience in agency administration and public policy development, having also worked for the state's Court Improvement Project, a federally-funded program focused on improving the processing of civil child abuse and neglect cases in juvenile courts.  Carter formerly practiced with the law firm of Claiborne, Outman & Surmay, P.C., representing clients in adoption, assisted reproductive technology, and juvenile court cases and was previously affiliated with Emory Law as Barton's 2002 post-graduate
Carter's scholarly interests are in the areas of children's law and social justice.  She has written on adoption policy, legal representation for maltreated children, enforceability of children's federal statutory rights, and child welfare system regulatory reform.  She has also contributed to the drafting and passage of multiple pieces of state legislation and is a frequent presenter at state and national conferences and CLE seminars.