Polly J. Price, MA, JD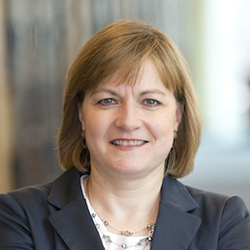 Role: Associate Dean of Faculty and Professor of Law Professor of Global Health Associated Faculty, Department of History, Emory University
  Contact: pprice@emory.edu
 Scholarship:
Torts | American Legal History | Immigration and Citizenship | Legislation and Regulation | Global Public Health Law | Public Health Law
Polly J. Price joined the Emory Law faculty in 1995. An honors graduate of Harvard Law School, Professor Price clerked for Judge Richard S. Arnold of the 8th US Circuit Court of Appeals. Following her clerkship she practiced law for several years at King & Spalding in Atlanta and Washington, DC.
Price is the author of two books and numerous articles on American legal history, citizenship, property rights, and the judiciary. Her most recent book, Judge Richard S. Arnold: A Legacy of Justice on the Federal Bench, includes a foreword by Justice Ruth Bader Ginsburg and a front cover blurb by former President Bill Clinton. C-SPAN2's Book TV featured Price's book in 2009.
Professor Price was awarded a grant from the Robert Wood Johnson Foundation for work in public health law in 2013. In the same year, Price received the Ben F. Johnson Faculty Excellence Award, a triennial recognition awarded by Emory Law School.
At Emory, Price teaches citizenship and immigration law, torts, legislation and regulation, American legal history, global public health law, and Latin American legal systems. She also taught courses in American constitutional history, torts, and product liability at the law faculty in Dresden, Germany, and she has twice lectured at the Free University of Berlin. Price was an invited speaker at the first Global Forum on Statelessness, held at The Hague in 2014. Prior to that role, Professor Price was the US representative in Pretoria, South Africa, at the Equality Law Conference for South African Judges and Magistrates, under the auspices of the US State Department's Rule of Law Project. Price has served as a visiting professor at Vanderbilt Law School and as the Frances Hare Visiting Professor of Tort Law at the University of Alabama.
Select Publications: "If Tuberculosis Spreads ...," The New York Times, July 8, 2014
"Mapp v. Ohio Revisited: A Law Clerk's Diary," 35 Journal of Supreme Court History 54-70 (2010)
"Stateless in the United States: Current Reality and a Future Prediction," 46 Vanderbilt Journal of Transnational Law 443 (2013)
Judge Richard S. Arnold: A Legacy of Justice on the Federal Bench (Prometheus Books 2009)
and Property Rights: Rights and Liberties Under the Law (2003). 
Education: BA, MA, Emory University, 1986
JD, Harvard Law School, 1989.