Jimmy Carter discusses global development with a panel of Emory graduate students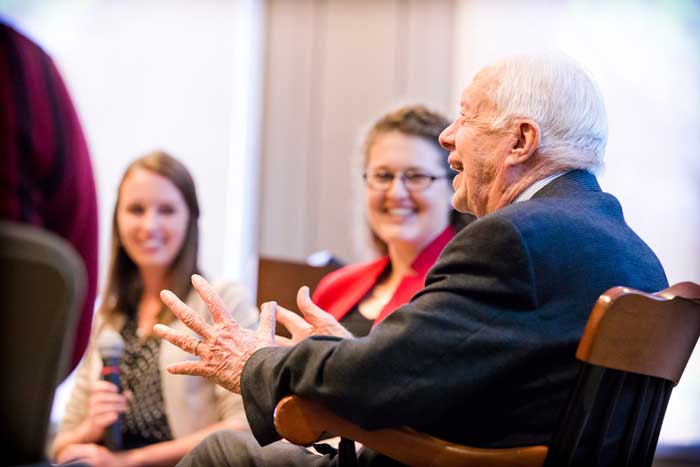 Emory MDP students had the opportunity to speak with former US President Jimmy Carter at a recent Institute of Developing Nations (IDN) event. The discussion explored opportunities and challenges of connecting scholarship and practice for sustainable development programming. An interdisciplinary panel of six students were selected, including Amelia Conrad (MDP '16), who is also a Graduate Assistant Intern for the Carter Center. The panel also included graduate students from Public Health, Anthropology, and Political Science.
Each student discussed an aspect of their research with President Carter, who had questions and comments about the individual projects. Conrad is designing an evaluation of the Access to Information programs core-country programming over the last 15 years. The program has been operating in Jamaica, Bolivia, Nicaragua, Mali, Liberia, and China. Students were then allowed to ask their own questions to President Carter, and Conrad asked  "How does an organization like The Carter Center, which works with both government and civil society, avoid appearing co-opted by governments who may not have strong human rights track records". He responded by acknowledging that The Carter Center does receive criticism for its work with countries like North Korea or with African dictators; however, he also stressed that, by showing leaders and countries respect that they may not be receiving from other world powers, The Carter Center is sometimes able to influence change in ways that others are not able to.
Conrad referred to the event as an incredible opportunity "while a bit nervous, I felt immensely grateful to have the chance to discuss my work with President Carter" and "I am impressed by President Carter's intellect, but perhaps even more so by his humor and humanity".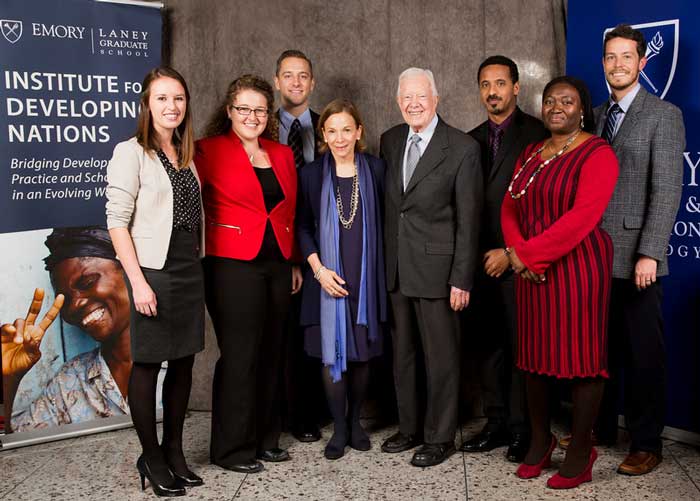 * Special thank you to IDN for allowing use of their photos from the event.
---
Top: President Carter with Graduate Students, Amelia Conrad and Nicole Devereaux - Graduate Education and Global Development. Middle: Amelia Conrad-Graduate Education and Global Development. Bottom: Group Photo - Graduate Education and Global Development.