FIELD PRACTICUM

The Field Practicum is a core component of the Emory MDP curriculum. Students participate in intensive, "hands-on" field experiences during the summers following the first and second academic years. This gives students the opportunity to gain firsthand experience with innovative development approaches and to apply in real-life development contexts the skills and insights acquired in the classroom. Each Field Practicum lasts at least 10 weeks, during which students serve as "embedded practitioners" within development and research projects in the Global South. While in the field, students work with project teams and are supported by a supervisor within the host organization as well as by MDP faculty. MDP personnel works with partner organizations to identify suitable field practicum placements, seeking the best fit between organizations' needs and students' inclinations and interests.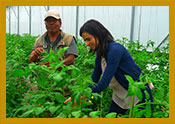 GABRIELA ARTASANCHEZ 
Gabriela worked with TechnoServe for the Latin American and Caribbean region. She was part of the Monitoring, Evaluation and Learning (MEL) team based in Mexico City. She designed a tool to monitor and follow up the standardization of MEL practices in the region. Gabriela supported an internal evaluation by conducting focus groups and interviews in rural Mexico and wrote a report for that evaluation. She wrote quick guides for qualitative research both in Spanish and English for better practices for the MEL team. After completing her internship Gabriela started working at Technoserve.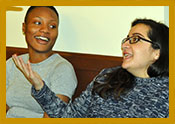 TOLUWALOPE ADE BABINGTON 

Ade worked as an intern with
CARE International
in Uganda where she helped build staff capacity on PIIRS (Project and Program information and Impact Reporting System). PIIRS is a knowledge management system used by CARE to capture the breadth and depth of its work. While in Uganda, Ade organized and led training workshops to familiarize staff with the various components of the system. She also collaborated with staff to develop data and information tracking tools to facilitate the PIIRS reporting process.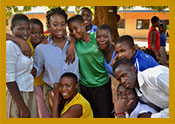 ADZA BEDA 
Adza worked as an intern with the Adaptation at Scale in Semi-Arid Regions (ASSAR) project in Ghana. ASSAR is a research project coordinated by the University of Ghana's Institute of Environment and Sanitation Studies (IESS) that aims to develop an interdisciplinary understanding of barriers and enablers impacting the climate, environment, society and economy. Adza assisted the team with data collection in the Upper West Region of Ghana. She participated in three key activities: transformative scenario planning and post transformative scenario planning prioritization, changing household structure/gender interviews and the student introduction to the ASSAR climate competition.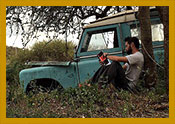 TYLER BREEN 
Tyler undertook a field practicum consultancy with the International Center for Tropical Agriculture. developed a report analyzing the feasibility of various projects under the World Bank Kenya Climate Smart Agriculture Grant. Project analysis focused on water infrastructure, milk/meat value chain strengthening, reforestation, anti-erosion, and pasture availability. Tyler conducted interviews with women's groups, community rotating credit unions, small-holder agricultural workers, as well as milk and meat producers. He also conducted geo-spatial analysis of environmental variables impacting agricultural and agro-pastoral productivity.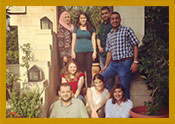 ANDREINA CORDOVA 
Andreina worked with CARE Jordan's Monitoring and Evaluation program to develop strategic qualitative and quantitative tools for data collection and analysis. Among her many responsibilities she provided a regional training to Jordan, Egypt, and Syria on CARE's Project and Program Information and Impact Reporting System (PIIRS) which is used to evaluate CARE's 25 global indicators.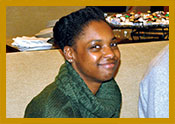 JESSICA DOANES 
Jessica worked with Khulumani Support Group in Johannesburg, South Africa, assisting their Enterprise Development Center (EDC). As a member of the EDC team, she drafted business documents, conducted research, designed a monitoring and evaluation performance assessment and assisted with the development of the curriculum for the Social Learning Workshop for Cooperatives (SLWC). Jessica's research focused on the incorporation of economic and social rights in transitional justice. She also worked with fellow MDP student Timothy Ruparain to complete a participatory observation report of the pilot SLWC.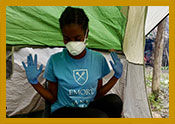 SARAH DURRY 
Sarah spent he summer conducting in Ranomafana, Madagascar with Emory's Department of Environmental Science in collaboration with Center ValBio in Ranomafana, Madagascar. Sarah helped administer household surveys as well as collect over 1,000 fecal samples from humans, livestock, and mouse lemurs for analysis. The overall goals of the research is to identify the traits of pathogen communities, social economics, behavior, and ecology that best predict diarrheal disease in children, a prevalent health issue in the regioin.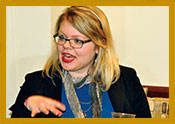 VALERIE ELKINS 
Valerie spent her summer in Nairobi, Kenya working with Jesuit Refugee Service (JRS). JRS aids refugees and internally displaced persons through accompaniment in navigating the resources available. Over the summer she performed home visits to check in on beneficiaries and collect their stories to incorporate into a book for the Mikono Craft shop at JRS that sells refugees handmade crafts. She also created and implemented a needs assessment survey and provided a report with policy change recommendations to better serve the needs of JRS beneficiaries.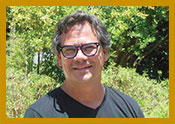 JONATHAN EOLOFF 
Jonathan interned at the National Center for Historical Memory (CNMH), a Colombian governmental entity dedicated to collecting victims' testimonies and documenting human rights violations that occurred during the armed conflict. Working with CNMH's Voices from Exile investigative team, Jonathan traveled to Ecuador, Panama and Venezuela where he assisted in interviews, focus groups and workshops with Colombian refugees and others who fled the war. Drawing on these stories, Jonathan is contributing to the writing of a report on Colombian victims' exodus, refuge and forced return after displacement.
SAMANTHA FRIEDLANDER 
Sam spent the summer in Port-au-Prince, Haiti working as a communications intern with Partners in Health (PIH), a public health nonprofit organization focused on providing free healthcare to those living in poverty. Sam gathered success stories, created internal presentations, and researched and wrote a keynote speech for the 2017 Water and Health Conference at the University of North Carolina. She also spent time living at Zanmi Beni, a children's home founded by PIH following the 2010 Haitian earthquake.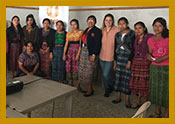 MARIA GUZMAN 
Maria assisted CARE International's Multiplying Impact team with monitoring and evaluation support for CARE's country office in Guatemala. She also assisted with strategic planning for CARE's Guatemala 2020 vision and mission. In addition, Maria conducted impact training for CARE staff in Lima, Peru and in Quito, Ecuador.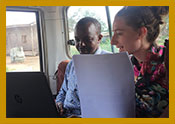 SYDNEY HERNDON 
Sydney spent her summer in Morogoro, Tanzania, working with professors at Emory and Sokoine Universities, as well as the International Livestock Research Institute. She conducted mixed methods research to explore how shifting livelihoods strategies among Tanzanian pastoralists influence socio-cultural and gender norms, food access and food valuation and how the intersections of these ultimately influence food choice. She contributed to the collection of qualitative and quantitative data through focus group discussions, household surveys and in-depth interviews, and market data across six field sites.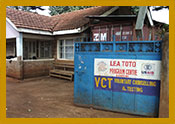 RAVEN HINSON 
As an Emory Global Health Institute team member in Nairobi, Kenya, Raven did monitoring and evaluation consulting work with an organization called Nyumbani. The organization helps children with HIV/AIDS by providing holistic care. She worked closely with the Lea Toto Adolescent Program to measure the impact this program had on the children. She worked on an interdisciplinary team of students from Emory to accomplish this research and put together recommendations for the organization moving forward.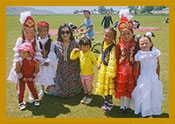 SIDRA KHALID 
Sidra worked as the School Health and Nutrition Gender Fellow with Save the Children in Kyrgyzstan. She was the principal investigator for a qualitative study to explore gender norms and attitudes of 10-14-year-old boys, girls and teachers in the Kyrgyz context. The project, part of a larger international program, is being used to inform the adaptation of a gender equality curriculum to challenge restrictive gender norms and promote gender equity among young adolescents.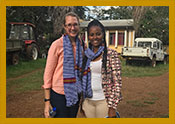 RACHEL LASTINGER 
Rachel spent the summer in with World Vision Ethiopia serving mainly on their Resource Development team, assisting in grant proposal writing. She also worked with a grant project, Engaged, Empowered, Educated Ethiopian Youth (E4Y), to analyze participatory tools used to address gender inequality and girls' dropout rates from school. She trained CCL staff to conduct the qualitative research and the findings were used to develop a Best Practices Guide and research report that offered recommendations on how to incorporate the topic of early marriage into the tools.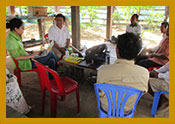 XIN LI 
Xin worked with United Methodist Church's Global Ministries in Cambodia as a Program Evaluator for the Community Health and Agriculture Development (CHAD) program. Xin was involved in all phases of the  evaluation, including planning, implementation and drafting of the final report. She visited seven villages in four provinces, conducting focus group discussions, key informant interviews and participant observation. The evaluation results were presented in the annual stakeholder meeting of CHAD program with recommendations for how the program might best address beneficiaries' needs in the future.
RYAN MINTZ
Ryan spent his summer working with the International Center for Tropical Agriculture in Kenya. He conducted an analysis of past development projects in Kajiado County and developed a report on potential opportunities for particular projects to be scaled up through the World Bank Kenya Climate Smart Agriculture Grant. Projects examined included anti-erosion agriculture projects, changes in land tenure, pasture availability, and maintenance. The report may be used to shape applications for future climate-smart agriculture initiatives.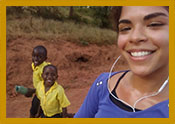 MIA NIEVES 
Mia worked as an intern at Global Growers (GG), a NGO that works to connect refugee communities with farming experience to land in order to strengthen local food systems in the Atlanta area; thereby supporting refugee livelihoods and nutrition. Mia assisted with program management and also farm operations at GG's farm. This included editing, researching, and communicating with partners. While learning about development issues through a small scale lens, she also wrked in the supply chain for food for local consumption.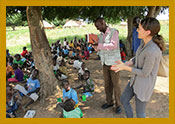 KATIE OSWALD 
Katie worked with Habitat for Humanity International as a communications associate with Habitat for Humanity Uganda. Based in Kampala, Katie provided communications support in order to motivate increased donor engagement. This work included launching a quarterly letter, designing a website homepage, documenting family success stories and more. She also developed a partnership assessment tool and analyzed a potential partnership for Habitat Uganda's vulnerable groups program. Katie also traveled to Kenya to conduct a site visit for Habitat's volunteer and institutional engagement department.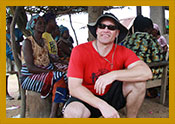 BILLY RICE 
Billy Rice went to Liberia to work with the Carter Center. He conducted research on customary legal practices in an effort to compare traditional judicial systems with statutory law. His work has the potential to enhance the harmonization of Liberia's dual justice system. He met with traditional leaders and others in rural Liberia to conduct interviews.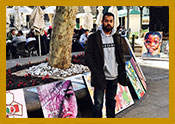 TIM RUPNARAIN 
Tim interned in Johannesburg, South Africa with the Khulumani Support Group (KSG), a human rights organization of more than 100,00 victims and survivors of apartheid-related gross human rights violations. He assisted KSG with building the foundations for their Enterprise Development Center (EDC), a resource and networking hub for community members from local townships to start social enterprises and cooperatives to overcome the impact of the historical undermining of economic opportunity from Black South Africans during the apartheid era.
DAVID SABINO 
David worked in Guatemala with RTI International on an evalutation of the Guatemala Model Police Precinct project, a collaborative inter-agency, peace-building effort supported by the U.S. Department of State. The program focuses on promoting community policing interventions to improve security outcomes. David worked with RTI International to develop supplementary qualitative analyses to evaluate the effectiveness of combined patrolling initiatives between the National Civil Police and local Municipal Traffic Police departments.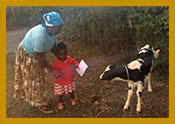 TARANGINI SAXENA 
Tarangini worked with the International Livestock Research Institute (ILRI) on gender dynamics in dairy production and marketing in Kenya. Working directly with dairy farmers and cooperatives, she led a value chain analysis to determine the opportunities and constraints experienced by women in the intensifying dairy industry. Through interviews with multiple stakeholders, Tarangini illuminated income and asset negotiations within dairy farming households. She also produced recommendations for a gender-sensitive low-emissions dairy strategy for NAMA, the Nationally Appropriate Mitigation Actions initiative.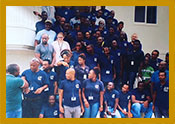 BETHANY SIKES 
Bethany spent her field practicum in Haiti working for J/P Haiti Relief Organization's Hurricane Matthew Emergency Response. Bethany wrote a report analysing and evaluating J/P HRO's neighbourhood methodology in relation to its shelter repair and disaster risk reduction projects throughout the Grand'Anse Department. Bethany also produced an oral history of one project and utilised qualitative research skills such as participant observation, focus group discussions and interviews and surveys to conduct her research.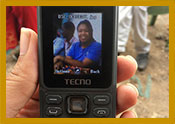 DANIELLE VEAL 
Danielle worked in rural Kenya and Ethiopia studying cross-cultural perceptions of well-being among vulnerable populations. In collaboration with Emory anthropologist Dr. Peter Little, she interviewed youth between the ages of 18-24 about their perceptions of well-being and happiness, including what material and non-material things contribute to well-being. She also assisted with focus group discussions as well as data entry, cleaning and analysis, to increase understandings of well-being in different cultural contexts.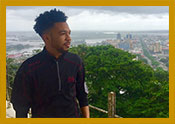 JULIAN WYATT 
Julian completed his field practicum in Liberia with the Carter Center's Mental Health Program. As a co-investigator, he played a key role in developing the research protocol and data collection tools for a study that assesses the quality of care of mental health services within various health care settings in post conflict Liberia. He conducted key informant interviews as part of a needs assessment for an epidemiological study which sought to identify the prevalence of mental illness among inmates in Monrovia Central Prison.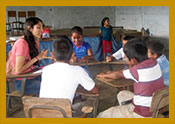 MELANIE ALEMAN 

As an intern with 
The Rainforest Alliance
 in Peten, Guatemala, Melanie conducted research on the commercial viability of sustainably-sourced ramón seed. This venture supports the economic development of rural forest communities within the Mayan Biosphere Reserve. Melanie collaborated with two other MDP students from the University of Minnesota in designing and implementing a pilot program that incorporates the ramón seed into school lunches. She also worked with community members and an NGO consortium to identify strategic partners and market opportunities for the development of this forest product.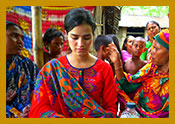 GABRIELA ARTASANCHEZ 
Gaby worked with CARE International in Dhaka, Bangladesh and Bhubaneswar, India as an intern with the Pathways to Empowerment program. She contributed to the design and implementation of a participatory tool called Pre-Crisis Market Analysis. This tool will allow organizations to analyze how the rice markets respond to the impacts of climate change. In addition, Gaby assisted with communication efforts by gathering success stories documenting the impacts of the Pathways Program through interviews and focus group discussions and by synthesizing information for different stakeholders.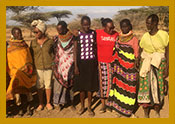 ADZA BEDA 
Adza spent her summer in Kenya as a member of an Emory Global Health Institute Multidisciplinary Team. Her research focused on gender- and age-differentiated livestock markets outcomes. Adza collaborated with the International Livestock Research Institute, working with staff in Marsabit and Isiolo County to analyze livestock issues within the Accelerated Value Chain Development program. This program aims to improve financial outcomes for disadvantaged market sellers and impoverished pastoralist households. Adza conducted focus groups, observations, community meetings and one-on-one interviews.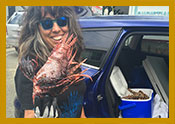 PAULITA BENNETT-MARTIN 
Spending the summer in the United States Virgin Islands of St. Croix and St. Thomas, Paulita worked as a Fisheries Research Outreach Coordinator for an Emory University NOAA funded research team. Her role was to build a strong network in a Caribbean fisheries community for the purpose of extensive mixed methods research on the viability for establishing a local market for lionfish. She developed a strong network including fisheries management and commercial and recreational fishers. She also ate more than her fair share of lionfish before the study was over, and enjoyed every ounce.  
RUOFEI CHEN 
Ruofei worked with the Global Health Impact Project (GHIP) project, a multidisciplinary initiative led by the Emory Global Health Institute and Social Enterprise@Goizuetain collaboration with the Nicaragua Community Health Connections (NCHC) program.The team worked together for eight months to analyze and address health challenges faced by a coffee-farming community in Nicaragua. During the summer the team conducted over 60 household interviews, built and distributed 30 improved stoves, and conducted trainings for community health workers and public awareness events on chronic respiratory diseases.
VICTORIA CHUONG 
Victoria worked with RTI International in Guatemala on two different projects. The first one involved the Universidad del Valle Guatemala and Development Ventures and consisted of site visits to evaluate a USAID-funded agricultural Solar Grid System Investment Project. The second project, implemented in partnership with the Centro de Estudios Atitlán and RTI International, aimed to promote sustainability efforts centered on Lake Atitlán by improving communication and collaboration among the community, local organizations, and municipal government.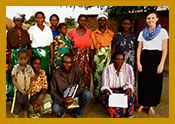 AMELIA CONRAD 
Amelia worked with CARE InternationalMalawi on several activities centered on the Pathways to Empowerment program. First she designed a gender training manual, provided gender sensitivity training, and conducted gender behavior change monitoring and analysis. She also wrote reports for Pathways' major donors, including the  Gates Foundation and the Margaret A. Cargill Foundation. She then engaged in an assessment of the impacts of a recent, severe drought on Pathways' program participants by training data collectors, supervising fieldwork, analyzing data, leading a reflection workshop, and preparing a report on priority needs and opportunities for intervention.
ANDREINA CORDOVA 
Andreina worked in Indonesia with UNICEF's Water, Sanitation and Hygiene (WASH) program. Her work focused on researching the impacts that menstrual hygiene management (MHM) practices can have on girls' health and education. Andreina designed, pre-tested, and produced a MHM comic book for 5th grade students. She also conducted statistical analyses of the association between the likelihood of girls missing school due to menstruation issues and various societal, environmental, and interpersonal barriers. In addition, Andreina contributed to knowledge management of UNICEF Indonesia's MHM efforts to inform future programming.
MARIO COREA 
Mario spent his summer in Phnom Penh, Cambodia with an Emory Global Health Institute multidisciplinary team working with the Cambodian Children's Fund (CCF). The team  implemented a community clinic-based study to identify the healthcare needs of the population served by CCF and  to assess the resources currently available to meet those needs. Using a mixed methods research design, Mario engaged in medical records analysis, key informant interviews, patient surveys, and in-depth interviews.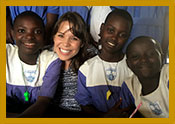 JESSICA FRYE 
Jessica worked with UNICEF Uganda to develop an Adolescent Girls Program Package for WASH to be implemented in schools across six districts. Jessica conducted monitoring visits of Early Childhood Development Centers (ECD) in refugee settlements to evaluate  WASH infrastructure for improving hygiene practices and child nutrition. She worked with the Ministry of Education and NGO partners to define WASH standards for ECDs, schools, and health facilities. Jessica also contributed to the first cross-sectional national study on adolescent health risk behaviors in Uganda in partnership with various UN agencies and Makerere University's School of Public Health.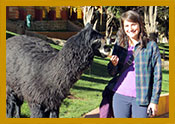 ALEXANDRA GORDON 
Alexandra Gordon worked with the Bolivian counterpart of Engineers in Action, Fundación Ingenieros en Acción. She helped to develop the pilot health and hygiene promotion project and also began designing an evaluation instrument. This project is part of a larger program funded by United Methodist Committee on Relief (UMCOR) and aims to improve environmental and human health in the Juckucha river basin in southern Bolivia, which has been adversely affected by mining activities in the area.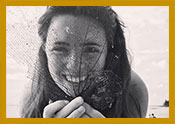 KATE GROENEVELT 
Kate spent the summer working on a research project led by Emory University's Department of Environmental Sciences and funded by the U.S. National Science Foundation. The study examines the viability of a commercial market for lionfish in the U.S. Virgin Islands. Lionfish is an invasive species that is wreaking havoc on the ecosystem, threatens the livelihoods of local fishermen, and jeopardizes a culture of fishing that has existed on the island since its first inhabitants. Kate conducted surveys and interviews with restaurants, consumers and tourists to assess consumer demand and concerns.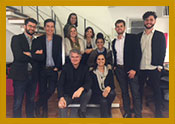 MARIA GUZMAN 
Maria worked with CAUSE in Sao Paulo, Brazil, an issues advocacy agency that helps organizations to define their social mission and to identify projects to invest in. CAUSE works with social actors in a wide range of fields, including development, human rights, and democratic participation by facilitating their connection with social movements and advocacy coalitions. Maria helped create a social impact measurement methodology by carrying out a comprehensive analysis of CAUSE's previous efforts to assess impacts and identifying entry points in their current project portfolio.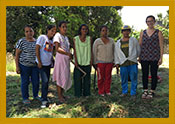 KATIE HIEBERT 
Katie worked in northern Philippines with Heifer International on the organization's Raising Income of CCT Families through Sustainable Agribusiness (RICSA) Project. She led a team of researchers in evaluating the effectiveness and sustainability of RICSA's Community Agro-Veterinary Entrepreneur (CAVE) activities, which is designed to increase participants' capacity to be service providers to farmers. Over 100 qualitative interviews were conducted with service providers, local community beneficiaries and project staff. Using the results of the evaluation, Katie collaborated with Heifer Philippines staff on strategic planning.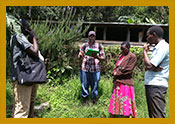 TYRELL KAHAN 
Tyrell spent his summer in Kenya working with the International Livestock Research Institute (ILRI). He carried out research on biogas technology adoption and retention in rural Kenya, by using questionnaires, informant interviews, and focus groups, to explore participants' motivations to adopt biogas, the factors associated with continued use of the technology, and the benefits and challenges that biogas users encounter. The study was part of the Climate Change, Agriculture, and Food Security (CCAFS) research program, which aims to identify climate change adaptation-mitigation synergies in livestock production and low emissions development pathways.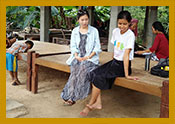 ERIN KIM 
Erin Kim worked on a WASH project in Cambodia with Samaritan's Purse.  Funded by the World Health Organization, the project focuses on identifying behavioral determinants that are associated with E. coli recontamination of drinking water after treatment in rural households. She also designed a focus group discussion guide and conducted focus groups in rural communities. Using the household survey data conducted in four different provinces, Erin also performed multivariate statistical analyses. She drafted the project report and presented the findings to the Ministry of Rural Development and WHO personnel.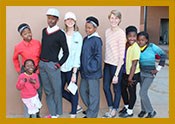 RACHEL LASTINGER and ANDIE TUCKER 
This summer Rachel Lastinger and Andie Tucker worked with the Manaleni Achievement Center, an after-school center in KwaMhlanga, South Africa that serves orphaned and vulnerable children. Rachel and Andie researched barriers to educational achievement using interviews, focus groups, and observations and used the findings to produce an evaluation of the organization's current approach to meeting student needs. In addition, they conducted focus groups on self-esteem issues with teenage girls (Andie) and boys (Rachel) at the center to elicit student-led recommendations that will improve the center's self-esteem programming.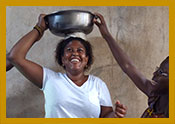 NICOLE McCOY 
Nicole spent her summer in Lomé, Togo with an Emory Global Health Institute (EGHI) team, conducting research on community participation in ASSAFETO, a USAID funded project that supports clinics for prenatal care and family planning. The team conducted qualitative and quantitative analyses of community use and perceptions of the clinic. Nicole gathered information on patients' visits with the goal of identifying family planning practice preferences among women of child-bearing age. Results and recommendations were produced in both English and French for dissemination to relevant stakeholders.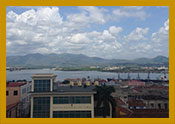 NICOLE MERINO-TSUI 
Nicole explored the alternative development model in Cuba. This model is especially unique due to Cuba's geopolitical standing. Nicole's research, in collaboration with the Cuban Ministry of Culture, examined the influence of the Chinese presence, both in the context of forced labor in the 19th century and current development, on Cuban identity and nationhood. Cuban nationhood is linked to the intentional creation of culture and development on the island must reflect those values. During her fieldwork, Nicole used participatory methods within the Chinese community to conduct her research. She will continue her analysis of Cuba next summer.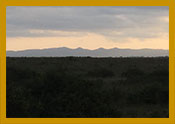 MACKENZIE MOODY 
Mackenzie spent her summer in Nairobi, Kenya, working with the East African branch of the Jesuit Refugee Service (JRS) , which aids refugees and internally displaced persons. Her activities included performing home visits to check in with project beneficiaries, emergency support allocation, and counseling and pastoral support services. During her final weeks, Mackenzie created a client-intake database and a complete workshop on sexual and gender based violence, with a focus on women and girls empowerment, to be used by JRS in the future.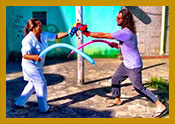 BRADY MOTT 
Brady worked on a medical research and disease prevention project, a partnership of the Brazilian public health institute FIOCRUZ, the Federal University of Minas Gerais, and the National Institutes of Health. Working in several rural elementary schools throughout the state of Minas Gerais, he collected biological samples, distributed treatments, and implemented health education activities aimed to curb the spread of schistosomiasis. The project has led to a significant reduction of the prevalence and reinfection rates of the disease in Minas Gerais.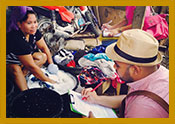 SUMON RAY 
Sumon served with Habitat for Humanity International in the Philippines as a principal investigator for a five-year review documenting the experiences of Severe Tropical Storm Washi survivors. Sumon assessed resettlement efforts in Cagayan de Oro by conducting direct observation transect walks, focus group discussions, household surveys, and key informant interviews. Additionally, Sumon composed a picture book titled, "Disaster Diaries: What Makes Habitat Home Partners Stay," which illustrates the experiences of Habitat home partners and beneficiaries after natural disasters.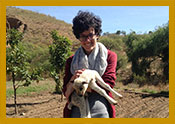 LAUREN REEF 
Lauren spent her summer working with Heifer International in Bolivia, evaluating agriculture and livestock projects. She was a part of two external evaluation teams, collaborating with Bolivian experts on mid-term and final evaluations. The evaluations consisted of site visits, focus groups, and in-depth interviews with various stakeholders including farmers, local government officials, and staff members of partner NGOs. Her team's recommendations will inform Heifer Bolivia's next project cycle and improve future programming.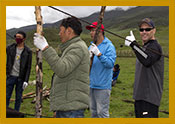 BILLY RICE 
Billy worked with the Tibetan Village Project  (TVP) in Tibet and China focusing on social enterprise development. He played a key role in creating an innovative business in Eastern Tibet, Gonkar Black Tent Escapes, which aims to increase household incomes while preserving Tibetan culture. Billy designed the market plan to ensure optimal results and created guidelines for best business practices for the opening in 2017. He also designed a webpage and produced outreach materials to promote the TVP cultural sensitive tourism activities.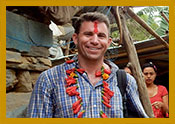 DAVID SABINO 
David Sabino conducted a field practicum in Nepal working with Groundswell International's local partner organization, BBP-Pariwar. He analyzed household survey data collected in the wake of the 2015 earthquakes to evaluate resources, challenges, and opportunities for farming families in the village districts surrounding the Kathmandu Valley. Based on the findings, David spearheaded an effort to create a partnership between BBP-Pariwar with another Nepalese NGO - Local Initiatives for Biodiversity, Research and Development (LI-BIRD) - to develop a pilot program for community seed bank development.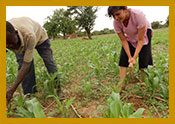 TARANGINI SAXENA 
Tarangini worked with Association Nourrir Sans Détruire, a partner organization of Groundswell International, to identify the lived experience of agro-pastoralist communities in eastern Burkina Faso. She focused on analyzing the contextual factors that affect livelihood and dietary choices. Using dietary diversity as a proxy measure for adequate micronutrient intake, she conducted qualitative research to determine the influence of social, economic and ecological factors on the availability and consumption of various local foods. She also conducted plant inventories, cataloging the availability of leaves, fruits, herbs, seeds and other forage-based foods both in the wild and in the market.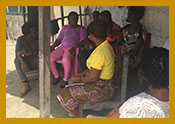 ROBERT SHANNON 
Robert worked with The Carter Center's Mental Health Program in Liberia to build psychosocial health and resilience in communities highly affected by the Ebola virus disease (EVD). Robert contributed to training community mental health clinicians, facilitating anti-stigma workshops, building pathways for referrals from communities to clinics, and meeting with government officials to advocate for mental health policy reform. Robert also led a team of research assistants and social workers in a psychosocial health community assessment of project impacts amongst individuals affected by EVD.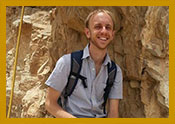 BARRETT SMITH 
Barrett returned to Palestine for a second summer to support Grassroots Jerusalem (GJ). GJ is confronting Israel's military occupation in Palestine and invigorating Palestinian society by developing a grassroots movement in Jerusalem, the rest of Palestine and around the world. Barrett's work focused on fundraising and grant writing. He also supported the development of an organizational strategic plan and marketing plans for GJ's Political Tours and Wujood>, their grassroots political guide of Jerusalem.
SARAH TURKALY 
Sarah worked with CARE's Pathways to Secure Livelihoods program in northern Ghana where she performed an impact evaluation of the Talking Book pilot program. The Talking Book is an audio device and access to information tool created by Literacy Bridge. It allows for pre-recorded messages to be uploaded in any language and is targeted toward populations in Ghana with low literacy rates. Sarah designed the methodology, collected data using qualitative methods, analyzed data, and produced an evaluation report.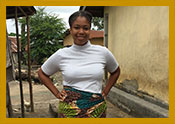 DANIELLE VEAL 
Danielle spent her summer in Sierra Leone assisting World Vision' staff with a mixed-methods endline evaluation for The Grandmother Project. The purpose of the evaluation was to determine whether elderly women (grandmothers) were effective agents of change in improving maternal and infant feeding practices, birth weight, and other health indicators. Research activities included census-style surveying, focus group discussions, and data collection from local health facilities. Danielle contributed to data gathering, conducted qualitative and quantitative analysis, and co-authored the final evaluation report.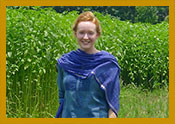 HELENA WORRALL 
Helena worked as an intern with the Pathways to Empowerment program at CARE Bangladesh. Pathways is an initiative operating in six countries to advance women's empowerment and improve food security. Helena supported program staff through a combination of communication and outreach activities, including log posts, human interest stories, and synthesis reports documenting program impacts in the target communities. She also designed the initial phase of a Pre-Crisis Market Analysis to determine the impact of flooding on the rice market in Kurigram district.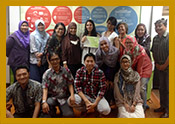 MELANIE ALEMAN
Melanie worked with The Nature Conservancy in Jakarta, Indonesia doing research on an educational center for corporate engagement in environmental conservation. For the feasibility report, Melanie conducted surveys, interviews and identified strategic partners for the initiative. This Center of Environmental Excellence is expected to launch in 2016 and help train Indonesian business employees on the value of conservation and sustainability, along with more specified and technical knowledge, adapting to the given industry and environment.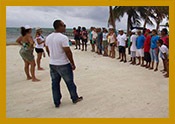 PAULITA BENNETT-MARTIN
Paulita spent three months with Oceana Belize, contributing to grassroots campaigning and community outreach. During this time, she also conducted marine debris and plastic pollution mapping and identified litter and pollution prevention networks. In addition, Paulita cultivated a grassroots movement, Plastic Free Belize, bringing together local and international scientists, artists, and activists. This work led to large scale public art installations, a local symposium, and new networks in marine conservation, and gained public popularity when Paulita was featured live on the national TV Open Your Eyes. ​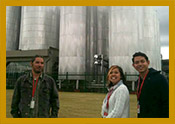 VICTORIA CHUONG
Victoria's practicum focused on corporate social responsibility. Through a partnership with the Universidad de Los Andes she joined a team in Colombia that was contracted to do a baseline assessment of employee engagement for the Bavaria Brewery's sustainability program (known as "Prosper"). Victoria identified the program's strengths and weaknesses and made recommendations to better integrate Prosper in the organizational culture, with the intent of securing the future sustainability of the company.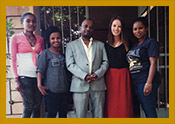 AMELIA CONRAD
Amelia worked in Ethiopia with a Global Health Institute team focused on gender-based violence. Collaborating with the Ethiopian Society of Obstetricians and Gynecologists (ESOG), Amelia and her team reviewed nearly 3,000 medical charts at two of Ethiopia's first sexual assault response clinics located in Adama and Hawassa. In addition, she assisted the local organization Enhancing Child-Focused Activities (ECFA) in updating their mission and vision, creating a new organizational profile, designing a strategic planning process, and producing a grant proposal.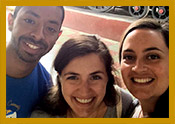 MARIO COREA
Mario traveled to Paraguay as a member of a Global Health Institute team this summer. Their objective was to develop local culturally and linguistically appropriate adaptations of three evidence-based adolescent sexual and reproductive health interventions for use in the Bañado Sur community of Asuncion, Paraguay. His role involved conducting trial runs of the ProMundo Program H: Working with Young Men intervention, which has a unique approach to engaging young men and boys on issues of gender equality and masculinity.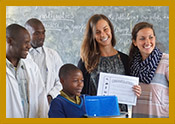 FALLON FRAPPIER AND TANYA WITLEN
Tanya and Fallon spent the summer in Bisate, Rwanda working with the Dian Fossey Gorilla Fund International (DFGFI).  They implemented a story contest to investigate the current knowledge, attitudes, and practices of Bisate students surrounding water, sanitation, and hygiene (WASH) issues. The contest acted as a non-intrusive, culturally appropriate, and motivational research tool. Over 500 students were invited to participate in this year's contest. Research analysis is assisting DFGFI in improving their current WASH curricula in Bisate schools.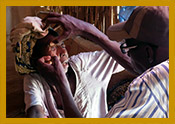 JESSICA FRYE
Jessica worked in Senegal with Sightsavers International, an international NGO focused on eliminating preventable blindness. Partnering with the Ministry of Health, she conducted mixed methods research to determine trichiasis rates in the region of Diourbel. The goal of the study was to assess current operational and management systems of Senegal's National Trachoma Program. She produced a report and recommendations that are being used to develop a monitoring and evaluation protocol for trichiasis surgeries and patient follow-up.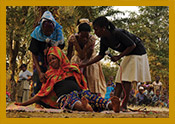 KATE GROENEVELT
Kate worked for The Nature Conservancy in Tanzania, on their integrated population, health and environment (PHE) project on Lake Tanganyika. Located adjacent to Mahale Mountains National Park, the project is designed to minimize communities' dependence on natural resources by reducing population growth and developing alternative income-generating activities. Kate worked on the Model Household Initiative, which promotes positive PHE behaviors at the household level. She also worked with a young adult drama group that designs and acts out plays to promote healthy-seeking behaviors.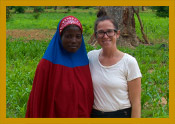 KATIE HIEBERT
Katie spent ten weeks in Burkina Faso working with a consortium of organizations, Association Minim Song Panga and Association Nourrir Sans Detruire and the Institut de l'Environnement et de Recherches Agricoles on a project that promotes farmer-led agroecology innovations to improve soil nutrient management and water retention. She conducted an evaluation of this project by conducting focus groups and interviews with farmers. Katie also spent time working with Djigui Espoir, an association of handicapped women empowering themselves through production of soy- and cereal-based products.
TYRELL KAHAN
Tyrell served with the Dian Fossey Gorilla Fund International in Rwanda. He worked with a Global Health Institute team in areas surrounding the Volcanoes National Park to determine whether humans and gorillas share the same species of intestinal pathogens. The findings will inform efforts to protect the gorillas while promoting development in the communities in and around the park. Later in the summer, Tyrell traveled to Uganda to work with Vets Without Borders-US collecting surveillance data on tuberculosis, brucellosis and human African trypanosomiasis in humans and livestock.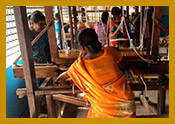 JULIE KEDROSKE
Julie worked with CARE International- Sri Lanka on the expansion of a private sector program called WEAVE. The WEAVE program operates in post-conflict districts in the North and seeks to empower women heads of household by providing technical and design skills in handloom weaving as well as training in business management. Julie helped to launch the program and produced a baseline report and an analysis of the handloom industry in Sri Lanka. These outputs are being used to establish links to private sector partners and to expand the market for handloom products in the country.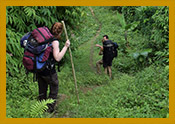 NATHAN KENNEDY AND JILLIAN KENNY
Nathan and Jillian joined the The Nature Conservancy's Papua New Guinea Forest Program team this summer. The program works with local communities to protect the rainforests of the Adelbert Mountains in Papua New Guinea. Jillian and Nathan designed and implemented a social impact evaluation in five villages to measure changes resulting from a Fair Trade cocoa-cooperative. They specifically looked at changes in social capital, social inclusion and gender, conservation awareness, and land-use and livelihood decisions. Their work is being used by The Nature Conservancy to inform similar programs in the region.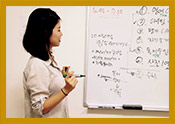 ERIN KIM
Erin served in South Korea with Yeomyung (YM) School, an alternative high school for North Korean defector youths in Seoul which aims to promote education and academic opportunities among the newly arrived. Erin designed the curriculum and directed the summer school program, which was aimed to develop math and English proficiency as well as to promote post-secondary education. Erin also initiated a project to empower the voice of the marginalized youths using PhotoVoice, a YM Summer School report based on the research was published in fall 2015 by the Yeomyung School.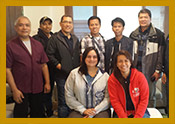 VICTORIA PHOENIX
Victoria worked with United Methodist Communications (UMCOM) in the Philippines. She designed and wrote a communications and disaster management protocol for the three episcopal areas in the Philippines. Victoria wrote two $20,000 grants for a ham radio program to accompany the communications protocol in addition to developing training tools for effective implementation of the new technology. By visiting sites and interviewing leaders in the community she was able to contextualize and adapt the protocol, which will be distributed throughout the Philippines. 
SUMON RAY
Sumon spent his summer in the Philippines with Habitat for Humanity International as a Disaster Risk Reduction and Response Intern. Sumon evaluated the Rebuild Bohol Core Shelter Project in Bohol, and the Shelter Repair Kit Program in Guiuan, Eastern Samar. Sumon used photography and video as methods of documenting the experiences of Filipinos who survived Typhoon Haiyan and the Bohol Earthquake, both of which occurred in 2013. Sumon also researched and wrote case studies to be published in Habitat's Disaster Shelter Catalogue which will be used to inform Habitat staff and donors.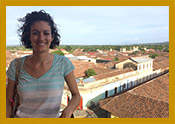 LAUREN REEF
Lauren spent her summer working in Villa Guadalupe, a former trash picker community in Managua, Nicaragua. Lauren was on a Global Health Institute team which conducted a health needs assessment and evaluating a nutrition program in coordination with a small nonprofit called Manna Project International. Lauren and the team used house-to-house surveys, interviews and focus groups to collect data and provide evidence-based recommendations to improve the organization's programming.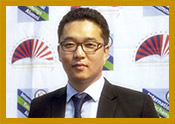 TSEWANG RIGZIN
Tsewang Rigzin worked as a research fellow at Tibet Policy Institute in Dharamsala and conducted independent research which resulted in a report titled Exile Tibetan Community: Problems and Prospects. Initially considered as an internal document of Central Tibetan Administration, the report received high praise from many, including secretaries from private office of His Holiness the Dalai Lama. The Library of Tibetan Works will publish the report in book form in October 2016. It will be available in English and in Tibetan.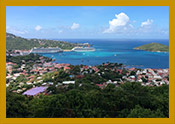 HAYLEY ROBINETT
As part of a multidisciplinary Global Health Institute team in partnership with the US Virgin Islands Department of Health Communicable Diseases Division Hayley worked on HIV/AIDS and STI research in the US Virgin Islands. The goal of the study was to better understand HIV/AIDS in the USVI, including knowledge, attitudes, and behaviors of at-risk individuals. The data are being used to inform Department of Health staff on current HIV trends, how to improve community access to HIV/AIDS resources, and to complement the USVI HIV/AIDS Surveillance Report and Epidemiological Profile.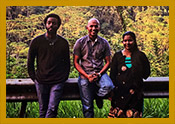 ROBERT SHANNON
Robert worked with a Gender and Empowerment project with CARE Sri Lanka. The ReNEW (Redefining Norms to Empower Women) project aimed to reduce intimate partner violence on tea plantations within the Tamil community by addressing negative social norms of masculinity that reinforce institutional and household violence against women. Robert assisted in creating a media and visibility campaign that challenges common patriarchal messaging in the community. He also conducted surveys and interviews that became the basis for the project's objectives and knowledge management.
BARRETT SMITH
Barrett joined the work of Grassroots Jerusalem in Palestine. GJ is confronting Israel's military occupation in Palestine and invigorating Palestinian society by fostering the development of a grassroots movement in Jerusalem, the rest of Palestine and around the world. Barrett's work included helping design, revise and author the English version of their new website, preparing an e-version of Wujood - the grassroots political guide of Jerusalem, supporting the launch of community-based political tourist centers, and streamlining and strengthening GJ's social media presence.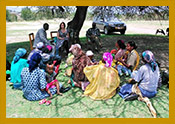 LARA WAGNER
Building on her experience as a consultant, Lara spent her summer performing a follow-up evaluation for WayFair, a social change consulting firm based in London. Lara traveled to the United Kingdom and Ethiopia where she to engaged in a qualitative evaluation of Engendering Change, an Oxfam Canada gender equality program implemented by WayFair which focuses on rural smallholder farmers. The data from those evaluations were used by both Oxfam Canada to fine-tune their program implementation and WayFair to contribute to the firm's communication materials.
HELENA WORRALL
During the summer, Helena conducted research in Kenya for the International Livestock Research Institute (ILRI). Helena carried out focus group discussions and farm visits with smallholder dairy farmers in rural Nandi to better understand the role of gender and social differentiation in feeding and manure management practices. Her final report contributed to ILRI's wider Climate Change, Agriculture and Food Security (CCAFS)  project on reducing greenhouse gas emissions in the Kenyan dairy sector, which has the dual aim of improving smallholder productivity and efficiency.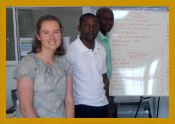 RENEE BARRON
Renee spent her summer in Haiti with Habitat for Humanity. Her work focused on supporting Habitat's strategic planning process by studying the historical, environmental, cultural and political characteristics of the Haitian context. In addition, she designed an education program to help Habitat's donors gain a better understanding of the organization's work in Haiti as  a way of promoting long-term support and advocacy.​ While in Haiti, Renee also worked with the CDC and Oxfam to manage a project designed to improve the process of transporting water from centralized kiosks to individual households.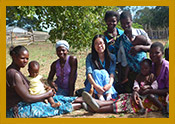 MIAN CHENG
Mian spent her summer working with the World Food Programme (WFP) in Malawi. She was part of the stunting prevention team, working on a program initiated by the government of Malawi and WFP that targets children under 2 and pregnant and lactating mothers to prevent chronic malnutrition. Mian was responsible for developing tools for monitoring the Social and Behavior Change Communication (SBCC) component of the program. In addition, she conducted interviews and focus groups with project managers and frontline workers to develop tools to improve SBCC implementation on the ground. ​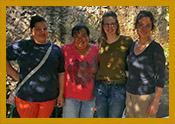 SAMANTHA COLLINS AND ALEXIS COPPOLA
Samantha and Alexis spent their summer in the Banado Sur of Asuncion, Paraguay. The Banado Sur is an informally settled community on the river floodplains occupied by approximately 100,000 people. During their time in Paraguay, Alexis and Sam analyzed the barriers and enabling factors that shape access to and experience of university education for students from the community by using a qualitative research approach. The project was conducted in collaboration with Mil Solidarios, a local grassroots non-profit organization operating in the Banado Sur.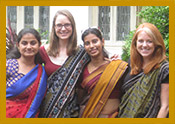 HANNAH COX
Hannah worked with CARE India, on a program for smallholder women farmers of Scheduled Castes and Tribes in Orissa, India, conducting a qualitative midterm review. For the review, Hannah interviewed women in self-help groups as well as their spouses and community leaders. Though these interviews, program beneficiaries were able to self-define and express their own ideas about empowerment. Hannah trained Pathways field staff in qualitative data collection and field staff trained her in the local language, Oriya.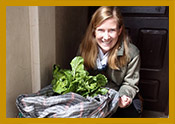 BROOKE ESTES
Brooke spent her summer working in Riobamba, Ecuador with EkoRural, an Ecuadorian NGO associated with Groundswell International that focuses on food sovereignty and ecologically friendly farming practices in the Andes. She completed a stakeholder mapping project in which she identified, interviewed, and assessed potential partners to involve in developing local food systems. She also completed a pilot initiative in which she facilitated local farmers' sale of products directly to a restaurant in Riobamba. In addition, Brooke documented experiences with other organizations on which EkoRural might model future activities.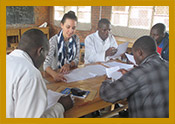 FALLON FRAPPIER
Fallon spent the summer in Musanze, Rwanda working for Dian Fossey Gorilla Fund International in partnership with Emory's Center for Global Safe Water and Emory's Global Health Institute. She organized a pilot competition in which primary and secondary students were invited to submit stories that informed the community about the social context, knowledge, attitudes, and behaviors of young people relative to water, sanitation, and hygiene issues.​ Next summer, Fallon plans to work with DFGFI to expand participation in the competition and adapt the winning story into a radio broadcast .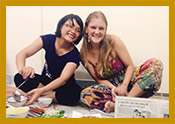 JOANNA GALARIS
Joanna spent 10 weeks in Vietnam conducting research on intimate partner violence as part of an interdisciplinary Emory Global Health Institute team in Mỹ Hào district and Hanoi. Partnering with the Center for Creative Initiatives in Health and Population, a community-based NGO, Joanna and her team designed, implemented and analyzed qualitative research to enhance the efficacy of current anti-violence programs and to inform future programs. In addition, Joanna conducted participatory workshops on qualitative methods for CCIHP staff and students at the Hanoi School of Public Health.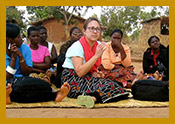 LAUREN GODFREY
Lauren worked with CARE Malawi as a mid-term review intern for the Pathways program, an agriculture and women's empowerment program. She assisted with qualitative research about the program's impact. Lauren helped with sampling; interviewed couples as well as community-based trainers; and was part of the data analysis and report writing team. Pathways is a "learning lab" for CARE Malawi, and along with two colleagues, Lauren presented the preliminary findings to the country office in order for the research team to receive feedback and discuss overall programming implications for CARE Malawi.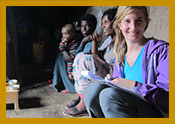 ANNAMARIA HAJDUK
Annamaria worked with CARE on a maternal and child nutrition project in Ethiopia. She led research design, data collection and analysis for a study in the Amhara region, where she worked with CARE staff to gather information about environmental sanitation conditions and behaviors which may contribute to high rates of stunting and anemia. They observed mothers and children under age two in household environments and interviewed parents and community health workers. She presented a report and recommendations to CARE's regional and national field offices in Ethiopia and to CARE staff at their headquarters in Atlanta.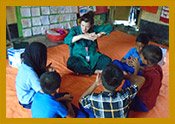 SARAH HARLAN
Sarah worked with Save the Children as a Monitoring and Evaluation Fellow in Bangladesh. She developed data collection tools to report on the School Health and Nutrition aspects of Save the Children's internal primary school monitoring protocol and an international school health M&E framework. She worked with a team to test a suite of tools in 21 primary schools in Meherpur district. Based on the responses in these pilot settings, she refined the data collection tools and made recommendations about future use, expansion and adaptation for internal and external reporting. 
KATE JACKSON
Kate spent the summer in Colombia working with the Escuela Nueva global education movement. She conducted research on academic achievement and helped to identify and adapt monitoring and evaluation instruments that will implemented into 6th grade classrooms around the globe. She represented Escuela Nueva at the Brookings Institute's Learning Metric Task Force 2.0 meetings in Bogota, helping to design a Global Citizenship education framework and indicators for Post-2015 UN Development Agenda. She also conducted program design trainings for Escuela Nueva staff in Spanish.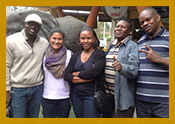 AMIHAN JONES
Amihan spent the summer in Uganda working as the monitoring and evaluation intern for Habitat for Humanity International's project "Building Assets, Unlocking Access," which aims to expand housing microfinance in Kenya, Uganda and Ghana. Amihan was responsible for improving monitoring and evaluation systems for each country team, including revising baseline surveys for pilot implementation. She also worked with financial service partners to develop monitoring and evaluation criteria for various stakeholders, and participated in the annual planning meeting for the project held in Nairobi.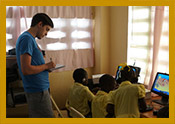 APOSTOLOS KALANTZIS
Apostolos worked in Haiti with the Thomas Food Project, an initiative supported by the United Methodist Church Communication for Develoment (UMCOM) program. The project began provides water filtration, solar power, and computer technology. Apostolos conducted a project evaluation through classroom observations and interviews with teachers, principals, students, and community members. He assessed how computer labs were being used in two schools - the Thomas Methodist School and the School of Hope in nearby Sous Rigole - and documented impacts on educational outcomes.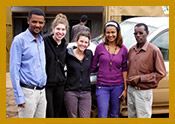 JULIE KEDROSKE AND CLAUDIA LANGFORD
Julie and Claudia worked with the International Water Management Institute in Ethiopia. They spent the summer working closely with researchers to collect baseline social and ecosystem services information to be used to evaluate the socio-economic impact of a new intervention aimed to provide alternative seed varieties and fertilizer to local smallholders, in order to reduce dependence on resource-depleted, communal grazing lands. The survey combined quantitative and qualitative approaches and integrated participatory resaerch methods, such as community mapping.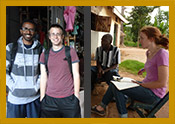 NATHAN KENNEDY, JILLIAN KENNY AND BIRUH ZEGEYE
Nathan, Jillian and Biruh worked with CARE/Global Water Initiative in East Africa to evaluate the Learning and Practice Alliance (LPA) framework. The LPA is a multi-sector, multi-stakeholder platform that is using participant-led research to inform interventions related to smallholder agriculture. Jillian evaluated an LPA in northern Uganda, while Nathan and Biruh worked in northern Ethiopia. The students conducted more than 50 interviews and focus groups with farmers, government officials, researchers, and GWI EA staff. They collaborated on a report analyzing the LPAs, which will improve the current LPAs and inform the future application of the LPA model. View the report.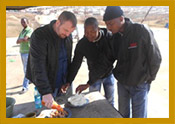 PAUL KENNEDY
Paul worked with Joint Aid Management (JAM) in Johannesburg, South Africa, where he assisted with monitoring and evaluation of nutritional programs for children attending Early Childhood Development Centers (ECDs) around the city. Paul also organized a participatory development workshop in the township of Itsoseng, to elicit information from community members, government officials, and other NGOs working in the township for the "ground-up" design of a development project. Paul also produced a range of GIS resources for the organization to use and conducted a GIS training for JAM staff members.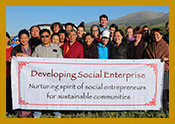 LHAMOTSO LAMAOCUO
Lhamotso spent her summer working as the coordinator of three social entrepreneurial workshops at Tibetan Village Project. The workshops were conducted as part of the Tibetan Social Entrepreneurship Initiative (TSEI), a project that aims to apply market-based solutions to social, cultural, economic and environmental issues in the Tibetan plateau. Lhamo was responsible for selecting candidates for the workshops, coordinating logistics, conducting business assessments in collaboration with the Conscious Business Consulting Company in Chengdu, supporting business plan development, and evaluating the workshop.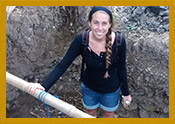 CAITLIN MCCOLLOCH
Caitlin worked with The Nature Conservancy (TNC) in Ecuador to help coastal communities adapt to climate change. Working with El Centro Internacional para la Investigación del Fenómeno El Niño, (CIIFEN), a TNC partner organization, and with project participants, Caitlin designed and conducted a preliminary evaluation based on interviews with project participants and developed a graphic tool to track progress on project activities. Caitlin also organized a community outreach activity to support TNC's initiatives in the region.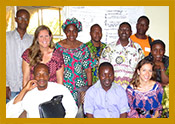 MORGAN MERCER
Morgan served as a qualitative research scholar with CARE's Pathways program in both Mali and Tanzania. Pathways aims to empower women farmers and enhance their food security through sustainable agriculture. As part of a multi-country team conducting a midterm evaluation of the program, Morgan assisted in training, data collection and qualitative data analysis. She also developed a report on the lessons learned during the midterm evaluation process in Mali that was shared with other Pathways country teams to inform their own assessment processes.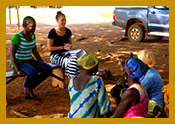 CHARLOTTE NEWMAN
Charlotte spent her summer working as a monitoring and evaluation intern with CARE in Ghana. She assisted with a mid-term review of the Pathways to Empowerment program, which aims to achieve women's empowerment through sustainable agriculture. Throughout the summer she facilitated the training of the data collection team, performed interviews and focus group discussions in four rural villages, and undertook qualitative and quantitative analysis of the data.​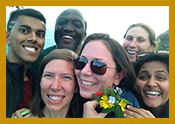 KUNAL PATEL
Kunal spent the summer in Tanzania with an interdisciplinary research team sponsored by Emory University's Global Health Institute. The team conducted research in the Tanga and Morogoro Regions to better understand how land and water conflicts can be addressed in ways that also promote health, nutrition, and gender equity. Kunal and his team contributed to a qualitative study of dairy and livestock systems carried out in collaboration with the International Livestock Research Institute and focused on maternal and child health, land policy, gender, and economic livelihood issues among transient and settled cattle-keeping communities.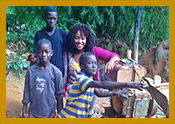 WINNETTE RICHARDS
This summer, Winnette worked with the Millennium Villages Project Bonsaaso Cluster in the Amansie West District of Ghana. Winnette assessed the effect of artisanal mining on Bonsaaso's economy; the impact of increased mining activity on the MVP's health and education interventions; and the prevalence of child labor. She conducted interviews and focus groups with key stakeholders, including local miners and mine owners, community leaders and members, local government officers, children and MVP staff. Her research will inform the work of the MVP and the Amansie West District Assembly.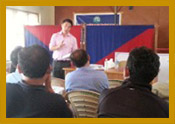 TSEWANG RIGZIN
Over the summer, Tsewang was an intern with the Federation of Tibetan Co-operatives India (FTCI), based in Bangalore, India. Under the supervision of FTCI senior staff, he conducted an independent and comprehensive study of Tibetan entrepreneurs in India. The study, based on survey research in four Tibetan settlement areas in India, sought to better understand Tibetan entrepreneurial community, identify factors that are an impediments to economic self-reliance, and recommend development interventions to address these factors. His report received widespread media attention in the Tibetan diaspora.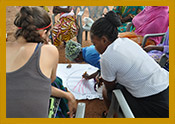 TAYLOR SPICER
Taylor worked with the Climate Change, Agriculture, and Food Security program, a long-term interdisciplinary research initiative of the Consortium of International Agricultural Research Centers (CGIAR), as the Gender and Participatory Action Research Methods Fellow. She worked on a Toobox of participatory methods for gathering information about how gender affects farmers' capacity to adapt to climate change. Taylor and her team tested the research tools in eastern Kenya and then traveled to northern Ghana (West Africa) where she collaborated with CARE staff to cross-test the tools in a different context. An official launch of the Toolbox took place in Nairobi in October 2014.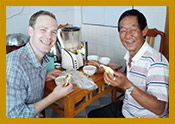 JACOB WOOD
Jacob helped oversee the Emory Global Health Institute – China Tobacco Control Project in China. Fluent in Chinese and familiar with the country's cultural and political landscape, he assisted sub-national government health officials in 6 Chinese cities on designing and implementing city-wide smoke-free programs. He led efforts to establish a partnership with Kunming Medical University to conduct qualitative research examining factors in farmers' crop selection. The results were shared with national and international health experts and the Chinese government to inform future tobacco control efforts in China.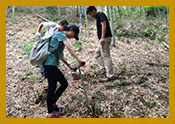 WENLU YE
Wenlu served as a GLOBE (Growing Leaders On Behalf of the Environment) intern with The Nature Conservancy in China. In this capacity, she worked on a project on the China-Latin American Countries Innovation Lab for Sustainable Hydropower and designed a communication strategy for the Ecological Fishery Project of the Three Gorges Reservoirs. She also collected water/soil samples and interviewed local government officials about the Zhejiang Water Source Conservation Program - Longwu Reservoir Project. Drawing on these experiences, Wenlu produced a report for the China Center for Sustainable Hydropower.
RENEE BARRON
Renee spent her summer in Nepal working on human trafficking at the head offices of Maiti Nepal in Kathmandu. Maiti works to rescue and rehabilitate survivors of trafficking as well to to eliminate it through advocacy and prevention programs among at-risk groups. Renee designed and implemented activities to establish new sources of income and foster international recognition for the organization's efforts. She also analyzed Maiti's strategic plan with the goal of devising ways whereby the organization can enhance its financial sustainability, while continuing to meet the needs of its clientele.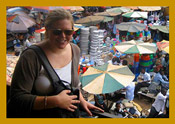 SARAH BROOKS
Sarah spent the summer in Uganda working as a Market Analyst and Product Development intern for Habitat for Humanity International's housing finance program, which is funded by the MasterCard Foundation. Sarah helped plan and design qualitative and quantitative research instruments to assess the impact of housing microfinance throughout Uganda. She used these tools to undertake a baseline survey that will inform this five-year project. Finally, Sarah assisted the MasterCard team in pitching the housing microfinance product and successfully brought three banks on board.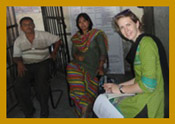 SAMANTHA COLLINS
This summer, Samantha worked with CARE India's EMPHASIS project, a regional initiative being implemented in Nepal, India and Bangladesh, to provide migrants with information and services about HIV/AIDS. Samantha designed a qualitative research project to study the vulnerabilities of Nepalese migrants entering India at the Banbasa transit point in Uttarakhand, India. After administering interviews and focus groups in the field, she analyzed the data and produced a report on her findings that discussed the remaining challenges and risks for this population.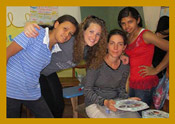 ALEXIS COPPOLA
Alexis worked in Paraguay with a Emory Global Health Institute team in the Bañado Sur Neighborhood of Asunción. Partnering with Mil Solidarios, a community-based organization, the team conducted qualitative research to understand how faith-based organizations can be mobilized to support interventions around sensitive issues like sexual and reproductive health, substance abuse, and violence. They also completed a GIS project, mapping key organizations in a marginalized section of the neighborhood, and assisted in the implementation of a Photovoice project against displacement.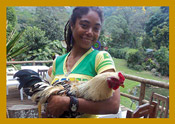 MYRIAM DORMER
Myriam returned to Brazil to work with the Bomfim Farmers Association, in collaboration with faculty and students from the MDP program at the Federal Rural University of Rio de Janeiro. She conducted an open-ended diagnostic study of farming practices in the region of Alto Bonfim, focusing on the use of agrochemicals. She collected data through interviews, which she analyzed and synthesized into a report. The information will be used to promote sustainable farming methods and collective action among farmers.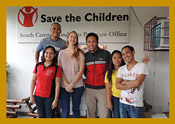 ANNA ELLIS
Anna returned to the Philippines to conduct a situational analysis for Save the Children, expanding on research conducted during the previous summer on menstrual hygiene management in schools. She trained teams to use mixed methods and led research activities in Metro Manila and South Central Mindanao. She analyzed data from her research to write a report and formulate programmatic recommendations. Her work resulted in a published report which will inform future initiatives in School Health and Nutrition and Adolescent Development programs.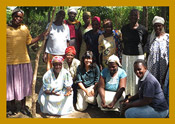 NAFISA FERDOUS
Nafisa worked with Climate Change, Agriculture, Food Security (CCAFS), a research program of the Consortium of International Agricultural Research Centers (CGIAR). She worked in the CCAFS site in Western Kenya to test and modify existing tools - and develop new ones - for participatory gender sensitive research on Climate Resilient Agriculture (CRA). Her findings are featured in an article on the CCAFS website and will be integrated into a CCAFS manual on gender and climate change research. At the end of the internship, Nafisa was hired by CCAFS as a Gender and Social Learning Consultant.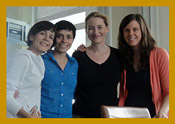 TRINITY FINDLAY
Trinity completed her internship with Global Dialogues in Atlanta, Georgia. As part of her internship, she analyzed youth narratives about HIV/AIDS, sexuality and violence from Africa and Central America. Trinity also led an international group of researchers in team-based qualitative analysis, and will continue her work with Global Dialogues this fall.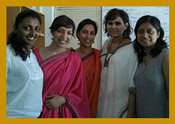 ALIYA FIROZVI
Aliya went back to work with CARE in Sri Lanka, where she participated in advocacy initiatives for a project aimed at fostering male-engagement in efforts to combat gender-based violence. In addition, she produced a communication strategy for the second phase of the project, and supported knowledge management consolidation.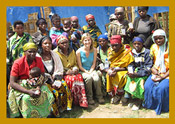 ANNAMARIA HAJDUK
Annamaria spent the summer in Rwanda. She was part of an Emory Global Health Institute interdisciplinary team working in partnership with the Dian Fossey Gorilla Fund International's Ecosystem Health and Community Development Program. They conducted a baseline assessment of water, sanitation, health and livelihoods in 17 villages near Volcanoes National Park. Annamaria led the qualitative component of the study, training six locals in focus group faciliation and data-recording techniques. She presented results to Dian Fossey Gorilla Fund International, NGOs and local government representatives.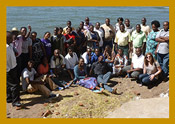 KATE JACKSON
Kate spent her summer working as a monitoring and evaluation intern with CARE Malawi. Kate was based in the central region, where she spent time interviewing chronically food insecure households and other stakeholders. She also spent time working with Integrating Adolescent Girls, a pilot project focused on reducing vulnerabilities of adolescent girls based in the Ntcheu and Salima districts.
ESTHER JOE
Esther returned to Malawi for a second summer of fieldwork with CARE International. She completed a longitudinal impact evaluation of 10 Village Savings and Loans Associations (VSLAs) in the Lilongwe and Mchinji districts. She conducted focus group discussions and in-depth interviews and analyzed data to assess improvements, innovations or shortfalls in the VSLAs, focusing on socioeconomic changes, gender empowerment and community leadership. She then produced a report and presented her findings to the Monitoring & Evaluation team and the Technical Support Unit at CARE Malawi.
AMIHAN JONES
Amihan spent the summer working at Nyumbani Village - a sustainable community for AIDS orphans - based in Kitui, Kenya. The internship was part of a broader program - supported by Emory's Global Health Institute - centered on interfaith approaches to global health. Amihan was responsible for developing a monitoring and evaluation system for Nyumbani Village that established indicators for and tracked progress towards goals of sustainability and child wellbeing. She also collected data to use as a baseline for measuring impacts.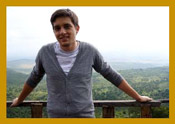 APOSTOLOS KALANTZIS
This summer Apostolos worked with the Emory Interfaith Health Program and Okaalet and Associates Ltd. in Nairobi, Kenya. As part of this internship Apostolos conducted interviews to inform the development of a curriculum on HIV-AIDS for training faith leaders across the country. The goal of the training is to enable these leaders to disseminate accurate information to their congregations and communities and to be more effective in advocating for better HIV and AIDS policies.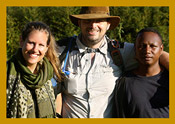 PAUL KENNEDY AND MORGAN MERCER 
Paul and Morgan worked with an Emory Global Health Institute research team in Madagascar, where they hiked to six villages in and around Ranomafana National Park to gather baseline data on the interaction between human and animal health and ecosystem integrity. They used GIS to survey the layout of villages, agricultural sites, and forest park boundaries to better understand disease ecology. The results of the research will inform the design of programs to integrate human and animal health with environmental sustainability. Their research was featured in the Emory Report. View video.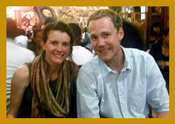 CLAUDIA LANGFORD AND JACOB WOOD
Claudia and Jacob served as graduate research interns at the International Water Management Institute at its East Africa office in Addis Ababa, Ethiopia. Working within the framework of the Nile Basin Development Challenge program, they played key roles in the design and implementation of two participatory workshops that brought together farmers, politicians, and experts, to identify challenges to livelihoods and to develop a natural resource management strategy for their community. The results of the workshop will inform future development projects in those regions.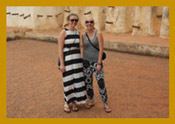 KALIE LASITER AND ANNA TARRANT
Kalie and Anna worked with the CGIAR Challenge Program on Water and Food's Volta Basin Development Challenge (VBDC) Project in West Africa. They conducted an assessment among smallholder farmers in Northern Ghana to identify enabling factors that promote agricultural innovation. They also facilitated a Companion Modeling Workshop working with local farmers and regional policy makers to identify policy gaps and innovative solutions for integrated water resources management. The results of their impact assessment were presented at a VBDC's Science Workshop in September 2013.
CAITLIN MCCOLLOCH
Caitlin worked in Mexico with an Emory Gobal Health Institute team conducting research on the dengue fever virus. While most of the team focused on biological aspects - collecting mosquitoes and mosquito eggs to study insecticide resistance, Caitlin researched the social dimension. She applied visual anthropological techniques to collect qualitative data on the relationship between people and domestic mosquito breeding sites in three communities, working in partnerships with the local university and Ministry of Health.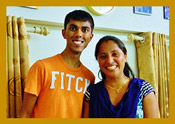 KUNAL PATEL
Kunal worked with Maiti Nepal, an NGO based in Kathmandu, Nepal.  He was involved in each aspect of Maiti Nepal's four core objective areas, including combating trafficking, migration, HIV and AIDS, and gender empowerment. As part of his work he conducted research for the legal section, developed budgets, contributed to strategic planning and marketing strategies, participated in personnel training, and edited and wrote reports, case studies, and grant proposals.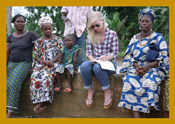 LARISSA SANFORD
Larissa returned to Sierra Leone to work with the UN Food and Agricultural Organization on an assessment of its Agri-Business Centers (ABC), which seek to facilitate smallholders' participation in marketing opportunities. She conducted a field study – based on interviews and focus groups - to explore which ABCs have been able to innovate and expand their business portfolio and which have not, and to identify mechanisms that account for such differences in performance.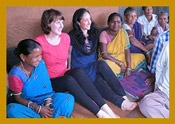 KRISTIN TANIS
Kristin returned to India to work with CARE Pathways, a program focused on women's empowerment through their participation in sustainable agriculture. During her internship, she interviewed participants in farmer's clubs and self-help groups as well as key informants in the states of Orissa and Chhattisgarh. She also assisted in data analysis for a qualitative assessment of women's experiences and achievements. In addition, she also helped produce program reports and customize content for different audiences.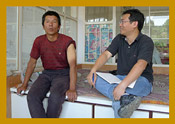 JIABING WANG
Jiabing worked with The Nature Conservancy China in Inner Mongolia for a second summer. He participated in designing a project aimed at rehabilitating abandoned farmland in order to restore their original ecological functions, through practices such as wind-break, sand-fixing, and soil and water conservation. Jiabing helped TNC staff carry out a baseline survey, which took him to several towns of Helingeer County. He then analyzed and synthesized the findings to inform future programming by the project team.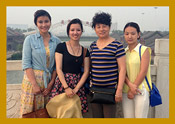 LINLING ZHONG
Linling spent her summer working with the Emory University China Tobacco Control Partnership in China. The goal of the partnership is to reduce the burdens of tobacco use through developing and implementing accountable and sustainable tobacco prevention and control initiatives designed to change the social norms surrounding tobacco use in China. During her time in China, Linling interviewed government officials in 10 cities to understand and evaluate the implementation of tobacco control activities. She assisted with data coding and analysis that fed into each city's final assessment.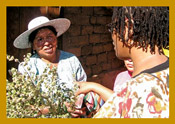 LISE AFOY
Lise returned to Cochabamba, Bolivia to serve as an intern with MAP International. In that capacity, Lise worked with mental health professionals and local organizations to assist sexually abused children and youths. In addition she planned and facilitated workshops on Gender-Based Violence and on the Rights of Disabled People. Thanks to her proficiency in Spanish (one of several languages Lise is fluent in) – she was a guest participant in local radio shows on Human Rights and Children's Rights.  Lise also contributed to MAP's advocacy campaigns and fundraising efforts.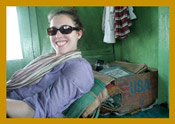 JENNA BLUMENTHAL
Jenna worked with CARE Bangladesh to support the development of the organization's climate change impact strategy, which will help to inform CARE's long-term programming approach for vulnerable populations and disaster-prone communities. Jenna contributed to the development of the impact statement by writing short reports that summarize recent findings regarding socioeconomic vulnerability to climate hazards in Bangladesh. Jenna's work was enhanced by observing community-based adaptation to climate change in central Bangladesh.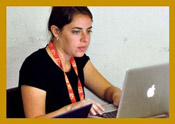 MIRANDA BODFISH
Miranda worked CARE India in Bhubaneswar, where she supported the design and start-up phase of Pathways, a new women and agriculture program funded by the Gates Foundation. Miranda conducted research on food security and nutrition, as well as on women's involvement in agriculture and natural resource management practices in the Orissa state. This summer experience built on her intership with CARE USA headquarters in Atlanta, where she contributed to the development of CARE's agriculture strategy and supported the coordination of the Pathways program at a global level.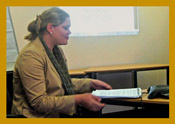 SARAH BROOKS
Sarah worked with CARE in South Africa and Lesotho, instigating an internal review of the the two-country office as part of CARE International's wider presence review. During her internship, Sarah reviewed documents, publications, and organizational materials to create a database. After analyzing the history, strengths and challenges of recent projects, Sarah created a living document for CARE and presented her findings to members of CARE International. She also helped to coordinate organizational change workshops.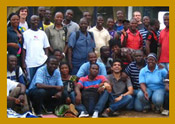 GRAY CLEVENGER
After working with The Carter Center in 2011 and participating in TCC's Election Monitoring Mission, Gray returned to Liberia to work as a Program Evaluation Manager with the Access to Justice project. With support from USAID, and with the backing of the Liberian Ministry of Justice, this project trains community justice advisors and organizes village-level workshops on the rule of law. Its goal is to facilitate conflict resolution and peace building from the ground up, rebuild trust between rural Liberia and the formal legal system. Gray's work is featured in this article on TCC's website.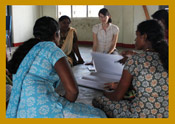 ALICIA CLIFTON
Alicia spent the summer in Sri Lanka working with Oxfam UK on their Socio-economic Development for Conflict-affected Communities program. Alicia conducted interviews and focus group discussions among the women most affected by the 30-year civil war. These women suffered displacement, loss of livelihood, and loss of family members and Alicia gathered information to be used in program and policies aimed to rebuild their lives and livelihoods. Alicia's research will inform a national strategy to promote women's leadership, particularly in the agricultural sector.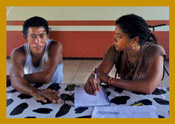 MYRIAM DORMER
Myriam worked with riverside communities in the eastern Amazon region of Brazil, accompanying the work of Embrapa Amapá. She worked with Projeto Interagindo and FLORESTAM to conduct a survey of social organizations within riverside communities. This research focused on agro-forestry management approaches and related economic opportunities. Myriam conducted semi-structured qualitative interviews, analyzed data and produced a short documentary based on the results. Her findings emphasize the value of diverse livelihoods and social networks for sustainable development.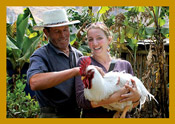 JENNIEV DOWDLE
JennieV worked with Groundswell International and their partner organization, EkoRural to promote healthy food and farming systems in partnership with local communities. She was charged with documenting the success of EkoRural's community-driven programs in promoting equitable and sustainable development. To do so she compiled human interest stories and visual materials on the food sovereignty movement, sustainable agriculture, and agroecology. This work enabled JennieV to interact with different kinds of stakeholders, ranging from Andean farmers to national policy makers.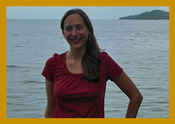 ANNA ELLIS
Anna worked in the Philippines on a collaborative research project between UNICEF and Emory's Center for Global Safe Water. The study focused on the challenges that girls in school face related to menstruation. Working with Plan International, she conducted focus group discussions with girls, and interviews with teachers, school administrators and other actors. Her work contributed to the first report focusing on menstrual hygiene management in schools and will inform the future programming of UNICEF, Plan International and Save the Children.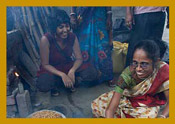 NAFISA FERDOUS
Nafisa went to Bangladesh this summer to work with the Project Development Unit at CARE Bangladesh. She supported CARE's knowledge management efforts in the Urban Extreme Poor and Women's Empowerment programs.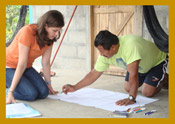 TRINITY FINDLAY
Trinity served as an intern with The Nature Conservancy in Ecuador for a project helping coastal communities adapt to climate change. During the project's initial stage, she conducted qualitative research through interviews and environmental assessments in order to categorize specific challenges and threats to the community members. Trinity also led mapping exercises and focus group discussions designed to identify and target potential interventions.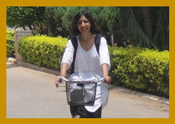 ALIYA FIROZVI
Aliya worked with CARE in Sri Lanka to design a qualitative study of the intersection of women's economic opportunities with their sense of dignity and personal security. The research was focused on the post-war context in the Northern region of Sri Lanka, affected by nearly three decades of war and was commissioned in order to inform and fine-tune CARE's approach in that region. Aliya conducted focus group discussions and in-depth interviews in the Mullaitivu and Kilinochchi districts and produced a report that elucidated the barriers existing between women and their access to economic activities.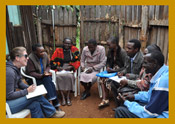 MARISA GALLEGOS
Marisa "Mia" worked in Kenya with Save the Children. She conducted stakeholder and beneficiary interviews to guide the development of an HIV-AIDS strategy. She translated Save the Children's Country Strategic Plan into a child-friendly document. In addition, she assessed school health and nutrition projects implemented by Save the Children in several areas in Kenya. Mia also helped Save the Children in their transition from four country offices to one large office by conducting an institutional assessment to identify thematic gaps and inform program planning.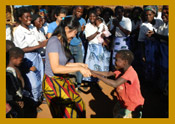 ESTHER JOE
Esther interned with CARE International in Malawi where she worked on food security issues with members from the Government of Malawi, WFP, Fews Net and other NGOs. She took part in the Malawi Vulnerability Assessment Committee (MVAC) by conducting in-depth interviews and focus groups on household livelihood security. Her team's efforts resulted in a report, which provided recommendations to the government on how to distribute food assistance in a timely manner and how to improve policy. She also assisted New York Times op-ed columnist Nicholas Kristof during his visit to Malawi.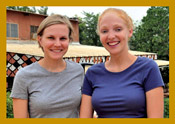 KALIE LASITER AND STEPHANIE STAWICKI 
Kalie and Stephanie spent their summer working as research interns with the International Water Management Institute (IWMI) in Burkina Faso and northern Ghana. They conducted qualitative field research with women's farmer-based organizations (FBOs) in six communities in the Upper East Region of northern Ghana. The goal of the research was to collect baseline data about women's activities, issues, and concerns in relation to water access, use and distribution in the region, as well as to understand how and why women organize themselves into FBOs. 
CONNOR RADKEY
Connor worked for CARE in Mtwara, Tanzania during the initial phase of the Pathways program. Pathways focuses on the agricultural and gender dimensions of economic development for smallholder female farmers and their families. Connor collaborated with the Mtwara CARE staff to establish sound and effective ways to determine which women were most in need for the program's interventions and to coordinate with existing partners to deliver services in the most appropriate and cost effective way.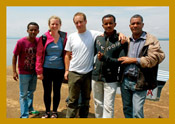 JAMES RAMSEY AND ANNA TARRANT 
Anna and James worked in Ethiopia with the International Water Management Institute. They conducted qualitative research with farmers in three field sites in the Oromo and Amhara regions. They produced a report based on the research concerning that adoption of rainwater management strategies and their relationship to the resiliency of rural livelihoods, exploring aspects of governance, use of natural resources, conflict within communities, and gender. The research was an integral component of the Nile Basin Development Challenge, part of the CGIAR Challenge Program on Water and Food.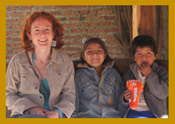 BETSY ROOT
Betsy returned to Cochabamba, Bolivia for a second summer of fieldwork with MAP International. She worked with MAP's community school to design a fundraising strategy. Betsy also planned and led workshops for parents and teachers on positive discipline and provided literacy support in two elementary school classes.
LARISSA SANFORD AND MOLLY WINSTON 
Larissa and Molly spent the summer working with the Food and Agriculture Organization (FAO) of the United Nations in Sierra Leone. They designed quantiative and qualitative research methods to evaluate a smallholder farmer commercialization project, which provides farmers inputs and establishes community agri-business centers. They facilitated focus groups and conducted in-depth interviews in two districts, Koinadugu and Kono. They analyzed this information and developed an impact assessment which they presented to Sierra Leonean government officials and United Nation leadership.
CLAUDIE SOSSAH
Claudie completed a 3-week training in Microfinance at the Boulder Institute of Microfinance in Turin, Italy. She had the chance to put this knowledge into practice at CARE Benin/Togo. Her research focused on the impact of Village Savings and Loans Associations (VSLAs) on women's status and wellbeing. She conducted interviews and focus groups in order to document positive changes in the lives of the women members of the VSLA. Her findings helped determine whether the VSLAs are a valid mechanism for poverty reduction and gender empowerment.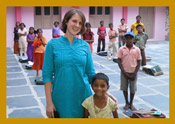 KRISTIN TANIS
Kristin worked with CARE India in New Delhi and Hyderabad as a program development intern. During her internship, she supported the development of CARE India's long-term programs in a variety of capacities. She participated in the activities of a core group of CARE India staff charged with informing program design around a specified impact population. In that capacity, she conducted secondary research and consulted with key actors on issues related to the impact population. She also helped build a microsite that acts as an hub for the development of CARE India's long-term programs.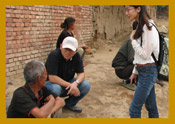 JIABING WANG
Jiabing worked with The Nature Conservancy China in Inner Mongolia, China. He was involved in the Shrub Sustainable Management Model Exploration, a new project that seeks to involve communities in the sustainable management of shrublands in order to address climate change mitigation. Building on his agricultural science background, Jiabing helped the Inner Mongolia TNC staff to carry out community needs assessments to feed into the project's feasibility analysis.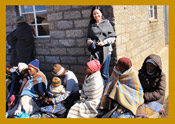 LINLING ZHONG
Linling served as an intern with the Food and Agriculture Organization (FAO) in Lesotho, Africa. During her internship, she visited 13 community centers in three districts to help implement the project "Strengthening Rural Livelihoods Severely Affected by Climate Change-Induced Drought in Lesotho". She conducted individual interviews and group discussions to identify the project's advantages, challenges and opportunities for improvement. She also wrote donor reports and helped draft FAO Lesotho's first commutation plan.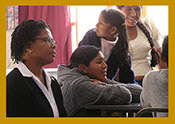 LISE AFOY

Lise worked with
MAP International
in Cochabamba, Bolivia, on projects including a campaign to raise awareness and provide support for victims of child sexual abuse She helped clinic staff measuring and weighing children and distributing medications and nutritional supplements to rural households. She worked with MAP's primary school children in developing a curriculum for Critical Thinking. She also accompanied the Health Promoters team to remote areas to help organizing workshops on Natural Healing.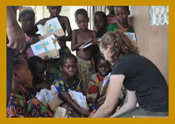 JENNA BLUMENTHAL

Jenna served as an intern with
CARE
International in Benin, West Africa. She worked on a hygiene promotion project in rural primary schools that were affected by severe flooding. She helped teach children about hygiene and safe food handling practices. Jenna also contributed to developing a monitoring and evaluation component by conducting focus groups and surveys with parents and children to determine their hygiene practices. She enjoyed observing the project evolve during her ten weeks in the country and even learned how to say a few words in the local Fon language!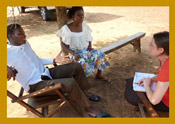 MIRANDA BODFISH

Miranda spent her summer working with
CARE
International in Cotonou, Benin.  During her internship, she conducted qualitative research to identify local perceptions, knowledge, and attitudes towards maternal and child nutrition. She also developed a training manual in French directed to community volunteers who are working with adolescents on team building, sexual health, and education.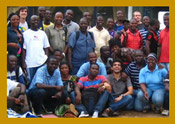 GRAY CLEVENGER

Gray performed his internship in Liberia, working with
The Carter Center's
Access to Justice Project. He undertook in-field assessments of the Center's programs and participated in consultations with the National Elections Commission, the United Nations Peace-building Commission, and civil society organizations. Gray also managed a research team from the Centre for the Study of African Economies at the University of Oxford, conducting an impact evaluation of the Center's Community Legal Advisor Program.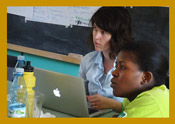 ALICIA CLIFTON

Alicia lived in Butare, the second largest city in Rwanda, this summer working on the Great Lakes Advocacy Initiative at
CARE
International in Rwanda. The project is focused on advocating for the better implementation of gender equality laws and policies including improved service for survivors of gender-based violence (GBV). Alicia assisted with trainings of GBV case managers and activists as well as the crafting of CARE Rwanda's national GBV advocacy strategy.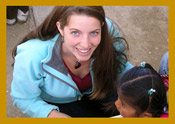 JENNIEV DOWDLE

JennieV spent this summer conducting fieldwork with
MAP International
in Cochabamba, Bolivia. She was part of a team working on Total Health approaches, which seek to integrate public health and sustainable development. As part of this work, JennieV developed a Critical Thinking Curriculum Training in collaboration with the Educational Community for Life and resources for the Health Promoters team. She also participated in an advocacy campaign for Child Victims of Sexual Abuse.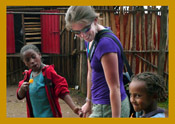 MARISA "MIA" GALLEGOS

Mia worked for
CARE
Ethiopia.  She conducted stakeholder interviews and analysis for CARE Ethiopia's chronically food insecure women's project.  She researched and developed human interest stories on drought and famine as well as compiled case studies to document the impact of the Gew Gew Project on food security in targeted communities.  Mia also worked with a team to design a program aimed to implement innovative approaches to food insecurity.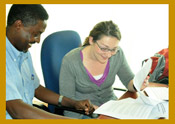 HALEY HOLT

Haley performed her internship as an intern for the Emergency Response Unit of
CARE
Ethiopia.  Haley helped drafting a Strategy for Emergency Response to worsening food security risks due to the East African drought. The strategy integrated cross-sectoral interventions in support of food security, nutrition, livelihoods, and water and sanitation. Haley helped debrief CARE officials and other donor representatives on fact-finding missions to address the famine situation in the region. Haley also traveled to the East Hararghe region of Ethiopia to interview affected households and project beneficiaries.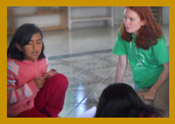 BETSY ROOT

Betsy completed her first summer of field work in Cochabamba, Bolivia with
MAP International,
a non-governmental organization that promotes Total Health - the capacity of individuals, families and communities to work together to transform the conditions that promote, in a sustainable way, their physical, emotional, economic, social, environmental and spiritual wellbeing. During her internship, Betsy worked on curriculum design with MAP's primary school and resource development with the Healthy Communities team.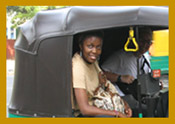 ATIENO SAMANDARI

Atieno spent three weeks in India this summer as a
UNICEF
 intern in Jharkhand State, where she focused on educational best practices for Child Friendly Schools in India. This opportunity built upon her previous experience with UNICEF in Botswana, where she developed educational materials for children. She spent the rest of the summer working as an intern at CARE headquarters in Atlanta, where she helped develop a new program for empowering poor smallholder women farmers in India, Bangladesh, Mali, Ghana, Malawi and Tanzania.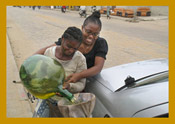 CLAUDIE SOSSAH

Claudie started her summer field training in Jharkhand state (India), working with
UNICEF
on the evaluation of Child Friendly Schools to identify best practices.  In August, she worked with the Abidjan Lagos Corridor Organization (
ALCO
) based in Cotonou, Benin.  Her activities included advocacy/partnership, assessing capacity building needs and HIV/AIDS prevention. She collaborated with ALCO's various teams, NGOs, Civil Society Associations and the private sector.  In addition, she worked with a team of experts on strategic planning for ALCO's project in Togo.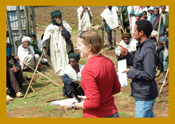 STEPHANIE STAWICKI

Stephanie worked with the Millennium Water Program-Ethiopia at the
CARE
Ethiopia office in Addis Ababa. She managed a water scheme functionality and governance snapshot study design and facilitation among 10 CARE water team members in the United Kingdom, Atlanta, and Ethiopia, resulting in the completion of 100 water point surveys. She analyzed the survey data and validated the findings through in-depth interviews and focus group discussions with members of low and high performing water schemes. Her report is being distributed to CARE Ethiopia/Millennium Water Program partners and donors.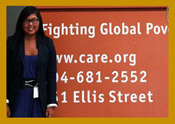 MOLLY WINSTON

Molly spent the first part of the summer working with 
UNICEF
 in India. After returning to Atlanta she served as an intern at
CARE
headquarters, focusing on a polio immunization project. She designed an immunization record keeping system for community health volunteers to use in pastoralist areas in Ethiopia. Molly carried out research on ways to integrate vaccine delivery with pastoralists' mobile livelihoods systems. She also contributed to extending the newly developed protocols to partner organizations.