Summer Field Practicums
2018 MDP Practicums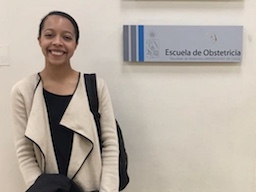 ALYSSA BOVELL
As an Emory Global Health Institute team member in Santiago, Chile, Alyssa participated in a multidisciplinary research project in partnership with the University of Chile's Department for Midwifery and the Promotion of Health of Women and Newborns and the WHO/PAHO Collaborating Center. The project's objective was to explore the perception and experiences regarding the prenatal, birth and delivery care of pregnant immigrant women assisted in Hospital San José, Independencia. The project's initial findings are being used to explore access to equitable maternal health services.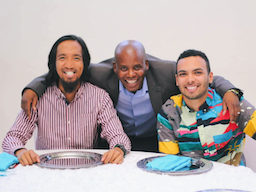 MARC ANTHONY BRANCH
Marc Anthony worked with the Council of Churches in Zambia, assisting their Emergency and Development Department. Among his many responsibilities like operationalizing program activities into the strategic plan, revising current projects, and exploring the relationships between mining companies and the communities they work in, he designed a grant proposal for a lead poisoning intervention in the city of Kabwe to remediate the effects of the environmental degradation from mining and smelting activities.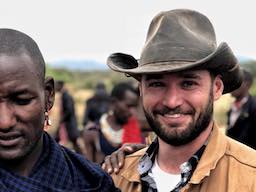 TYLER BREEN
This summer, Tyler worked in Nairobi and Kajiado, Kenya with CIAT (the International Center for Tropical Agriculture). His work followed up on a community assessment of resource use that will inform investment from the Kenya Climate Smart Agriculture Grant and possible projects from the county government. This was his second year spent with CIAT, working with a mix of geospatial and socio-ecological data collection to inform intervention possibilities.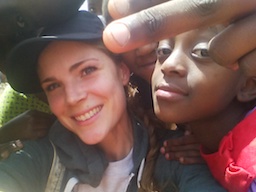 MELANIA CROCE
Melania worked in Kenya with Vijana Amani Pamoja (VAP), an organization that leverages the power of soccer to educate, inspire, and mobilize marginalized youth in East Nairobi. During the summer, she designed the focus group discussion guides for programs' beneficiaries and key actors, conducted monitoring and evaluation of the Employability and Entrepreneurship Project, and led the creation of its digital storytelling video. She also engaged in several field observations, conducted a Customer Needs Assessment for VAP's social enterprise called "MFood Restaurant"; in addition, she assisted the organization in designing a strategic communication process and writing a grant proposal. This organization is connected with Women Win, an international organization focused on sports for development.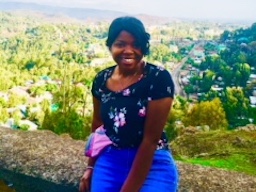 KEANDRA DIAMOND
Keandra executed her field practicum with Link Ethiopia & Kindu Trust's child sponsorship, education and health programs. As a Program Management Coordinator, she developed program strategies & needs assessments concerning overall health and living standards of families. Keandra also met with regional government officials concerning the appropriation of microfinance and systematized home case visits within various Amhara regional settings. She facilitated key focus group discussions on menstrual hygiene management, delivered annual sponsorship reports and educated children in English and Geography.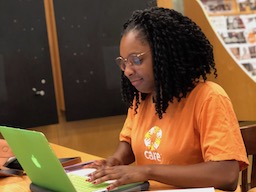 JESSICA DOANES
Jessica supported CARE USA's Multiplying Impact team in Atlanta, Georgia. From 2008 to 2018, CARE and Cargill implemented 19 projects across ten countries to improve farmer livelihoods and nutrition. Jessica analyzed quantitative and qualitative data from nine final evaluations, CARE's Program Initiatives and Impact Reporting System (PIIRS), and 19 program reports between 2008 and 2018. Jessica used the data to compose regional summaries and a high-level performance report detailing where, how, and to what extent the partners achieved sustainable impact.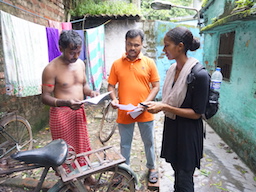 SARAH DURRY 
Sarah worked in Kolkata, India with Emory's Center for Global Safe WASH. The research project objectives were to learn about water and sanitation behaviors as it relates to interaction with domestic animals in urban slums. Partnering with the National Institute for Cholera and Enteric Diseases (NICED), 100 household surveys were conducted. Sarah's role included training of enumerators, qualitative data collection and analysis. The data collected will be used to understand exposure pathways of enteric disease through fecal contamination.
JONATHAN EOLOFF
This summer Jonathan worked in Bogotá with the Colombian Truth Commission, an entity created after the Colombian government and the Revolutionary Armed Forces of Colombia (FARC) insurgency group signed a final peace agreement on November 26, 2016, ending the armed conflict that began in 1964. The Truth Commission's primary mission is to determine what happened in Colombia's 52-year-long war that led to the victimization of more than 8 million civilians and shed light on the atrocities committed by the State, the FARC, and other private actors. As a research intern with the Commission, Jonathan reviewed reports submitted by Colombian victims abroad, human rights organizations and academics regarding Colombian exile and drafted recommendations for proposals submitted by Colombian NGOs addressing the rights of Colombians living in exile. Jonathan also assisted in the development of a pilot questionnaire, interview script and technical data sheet for victims to be interviewed by Truth Commission. Jonathan also conducted interviews with Colombian returnees who returned to Colombia after years of living in exile abroad.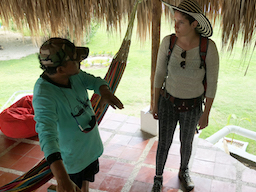 RACQUEL FIGUEROA
Racquel spent the summer in Bogota working with a technology startup called Watly. Watly is focused on creating sustainable infrastructure solutions for developing countries, tackling issues such as clean water, energy, connectivity, and refrigeration. Racquel worked on Watly's expansion into Colombia, helping design and carry out their strategy and to develop partnerships. She performed preliminary market research, wrote proposals for pilot projects, and held meetings with potential investors, partners, and clients. By the end of the practicum she had generated several valuable leads for the company.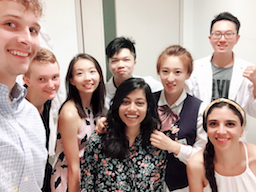 ERENDIRA FORTANEL HERRERA
Eréndira received the Emory Global Health Institute Multidisciplinary Team Award to conduct a mixed methods research in Nanjing, China. She worked with professors at Emory and Nanjing University, as well as doctors at the Nanjing General Military Hospital to analyze the "Latent and measurable variables associated with adaptive behavioral responses to air pollution in Nanjing". She contributed to the proposal writing, the research design, the collection of qualitative and quantitative data, the analysis and the drafting of the paper.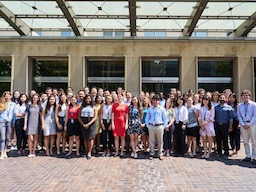 SAMANTHA FRIEDLANDER

Sam spent the summer at the Center for Universal Education in the Global Economy and Development Program of The Brookings Institute, a non-profit public policy organization based in Washington, D.C. and the most frequently cited think tank by U.S. media and politicians. Sam wrote a series of op-eds arguing for increased U.S. citizenship education and encouraging a "leap-frogging" approach to international education. She also helped to research, write, and design a series of snapshots analyzing themes within a database of global education innovations in order to increase the accessibility of the findings.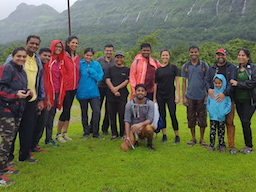 MARINANGELES GUTIERREZ
Stationed in Mumbai, India, Marinangeles worked with
World Resources Institute's Climate Resilience Practice
team over the course of the summer, contributing to two Working Papers that will be published this fall. The first paper seeks to understand the successful operation of integrating climate change adaptation at the various scales of development and the enabling factors that ultimately result in implementation on the ground. While the second was a complementary piece presenting the process of mainstreamed examples from two select states, with the intention of demystifying and ultimately, increasing the uptake of mainstreamed climate adaptation in India.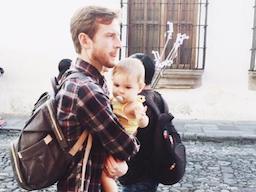 ANDREW HARRISON
Andrew served as a Monitoring & Evaluation Fellow while working in Guatemala City with Semilla Nueva. Translated literally as "new seed", Semilla Nueva seeks to introduce biofortified maize seed to farmers in order to help alleviate the high levels of malnutrition faced by Guatemalans through a contextually appropriate solution. As part of his work, Andrew researched the maize supply-chain to better understand the potential impact of biofortified grain nationally & identify market strategy recommendations alongside the organization's marketing team.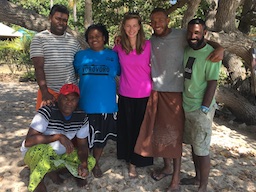 Sydney spent the summer on a small island in Northern Fiji, where she worked with the ecotourism company Bridge the Gap Villages. In support of the their communication strategy, she documented individual's stories and perspectives and the evolution of the community's partnership with the social enterprise.
For the summer
 of 2018, Raven worked with the Atlanta Regional Commission (ARC) on community engagement projects for the transportation department. Raven created 
process maps and guidebooks designed to help the average citizen get involved in their local planning process and understanding where they can give and receive input on Atlanta's current and future transportation projects. Raven also focused on improving the measures through which planners understand and map concepts like equity and how this impacts project funding.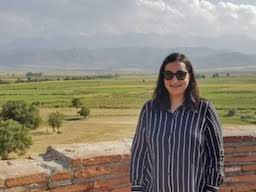 SIDRA KHALID
Sidra has continued her research fellowship with
Save the Children
in Kyrgyzstan and helped manage and implement a qualitative study to learn about boys' puberty knowledge and education. She developed interview and focus group discussion tools for adolescent boys and girls, parents, and teachers. The data is being used to inform culturally appropriate boys' puberty education materials in Kyrgyzstan, which currently do not exist. She is also the lead author of the Kyrgyz adaptation of a gender equality curriculum.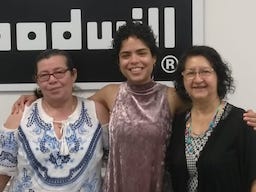 MIA NIEVES
Mia finished her year-long graduate assistantship with The Carter Center's (TCC) Hispaniola program which works Ministries of Health of both Haiti and the Dominican Republic to accelerate the elimination of malaria and lymphatic filariasis. At TCC she also consulted for the Nigeria Public Health Training Initiative and drafted the first version of a Site-Visit Protocol. In the evenings, she served as a Civics Instructor for the Latin American Association's Citizenship program for Spanish-speaking U.S. residents.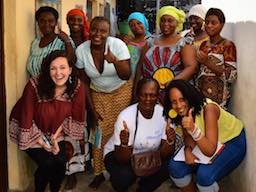 KATIE PONS
Katie spent her summer with CARE Côte d'Ivoire in Abidjan working in knowledge management, and learning. Specifically, she developed capacity statements and fact sheets, designed and implemented a data management system, and helped to create a resource mobilization plan. She also assisted in writing several grant proposals for projects addressing the unique needs and barriers women face in Côte d'Ivoire's cocoa growing regions. Additionally, she held a focus group discussion to gain valuable qualitative insights on project impacts.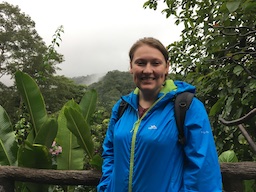 BETHANY SIKES
Bethany completed her practicum with
Habitat for Humanity International
. Working with the
Latin America and Caribbean office
, Bethany conducted an evaluation of a disaster risk reduction project in Jamaica, conducting fieldwork and presenting findings across the organisation. The project included trialing a new monitoring and evaluation tool for the organisation.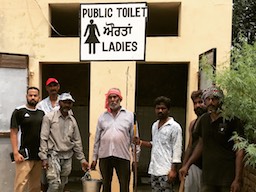 TIM RUPNARAIN
Tim worked in Delhi, India, with the
Safai Karmachari Andolan
(SKA), a national movement that aims to completely eradicate manual scavenging from India -- an occupation often reserved for the nation's Dalit castes ("untouchables"). While this practice has been banned by law with provisions for rehabilitation of workers, it continues within India due to government apathy in the implementation of law and society-wide caste-based discrimination. Tim assisted SKA with drafting memorandum to key Indian politicians to advocate for the timely release of benefits to manual scavengers and their families as mandated by the government. He also spent ample time in the field conducting interviews with families pursing entrepreneurial efforts to create more dignified livelihoods, completed monitoring and evaluation reports for project donors. and assisted in training workshops with SKA community leaders focused on community building and advocacy strategies.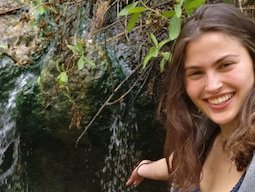 REBECCA SPENS
Rebecca did her field practicum with RTI International in Nairobi, Kenya. She was working with the Kenya Youth Employment and Skills program on a piece of qualitative research. This study assessed the potential of county-based collective impact bodies for generating solutions to youth unemployment. As part of this research, she travelled to five counties and conducted several interviews and focus groups in each.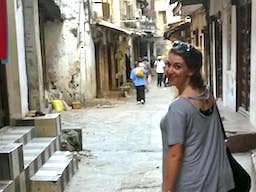 MALLORY ST. CLAIRE
Mallory St. Claire spent her field practicum with the International Livestock Research Institute in Nairobi, Kenya. Mallory worked with the Index-Based Livestock Insurance (IBLI) project, an initiative aiming to increase drought resilience of pastoralist households in East Africa through pro-poor insurance schemes. Her area of focus was monitoring, evaluation, and learning (MEL) and she worked with team leaders to develop a strategic document for implementing scalable MEL across agency distribution networks across multiple contexts. She additionally conducted a rapid needs assessment with IBLI sales agents to inform future MEL efforts.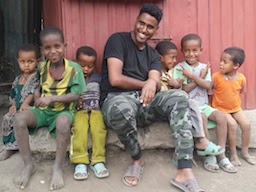 YACOB ZURIAW
Yacob spent the summer working with CARE Ethiopia, specifically the TESFA project, which seeks to mitigate the difficulties that an early marriage can bring upon adolescent ever-married girls in rural Northern Ethiopia.Yacob split his duties between both program design, and formative research. As a research-assistant, Yacob familiarized himself with the intricacies of TESFA's timeline to help prepare an interview guide for stakeholders in the region. With program design, Yacob spearheaded a successful entry submission allowing TESFA to compete in CARE's Scale-by-Design competition, held annually in Atlanta.