The Power of Poetry
The Power of Poetry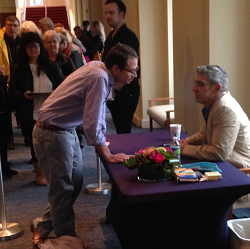 On February 23 Emory University hosted Richard Blanco, the inaugural poet for President Barack Obama in 2013 at the famous Schwartz Theater.  Blanco is the youngest, first Latino, first immigrant, and first gay person to serve as inaugural poet.
Exploring his dichotomous relationship with theater and development, Ian Hamilton reflects on his experience attending the poetry reading of one of his most adored thinkers.  
---
The Schwartz Center's deafening silence throws me off. Where is everyone? I look around and see two attendees setting up a reception table next to the concert hall entrance. I'm early which isn't my usual style, but this was a special occasion and I wasn't going to be seated in the back behind some obnoxious undergrad distracting their friends (and me) the entire time. No, nobody was going to stop me from getting a prime view of this reading. I walk towards one of the attendees. "Excuse me?" She looks up from her stack of posters featuring a poem by the expected author. "Is this the right place for Richard Blanco?" The woman straightens slightly from a half-stooped position. "Yes, doors will open at 3:30. You're welcome to wait here in the lobby." I thank her and find a sunny spot on a well-cushioned bench - my perch. I'll lie in wait until the concert doors fling open when I can swoop in. I have a full half hour to kill and try to distract myself with research methods, but it's no use. Others have arrived and I am curious about the who's who gathering in front of me. The crowd is older than I anticipated, mostly seniors catching up on each other's grandchildren. Right on cue, the attendees open the doors at 3:30. Time to stake my territory. I strategically maneuver my way around a pair of senior citizens deciding to sit either on the left or right-hand aisles. There's only one place which will be suitable enough for me. I reach the edge of the stage in front of the podium and turn around to scan the seats. Now, which row? There's a second-row seat in line with the podium's angle. It's just far enough back so I don't have to crane my head the whole time but close enough to feel that personal connection between you and the speaker. God couldn't have chosen a better spot. I take off my jacket and set it down on the seat beside me.
I obviously intend to meet him afterwards so I need to buy one of his books but which one? Blanco's first book City of Hundred Fires is the obvious choice. If I'm to learn anything about who this man really is I better start at the beginning. Admittedly, the eye-popping children's edition of One Today was equally as tempting. I'm a sucker for good illustrations.
I return to my seat. The theater's now packed with anticipated onlookers. As I read the introduction of my freshly purchased book the lights dim. The opening speaker is generous with her remarks, and as she nears the end of Blanco's impressive list of achievements I hear a distinct crunching noise behind me. My neighbor decides now would be the opportune moment to dig into her afternoon snack of peanuts. I'm seething inside but remind myself, "Eyes on the prize, Ian." Just then, the poet arrives onstage. Richard Blanco in the flesh.
Blanco displays an effortless charisma that fills the whole space as he dives right into One Today. Watching the version from Obama's second inauguration repeatedly on Youtube pales in comparison to experiencing a live rendition ten feet away. He's not afraid of eye contact, which is evident in his relaxed candor and easy smile. Blanco touches on all that encapsulates America. From his immigrant parents to current affairs, he finds the connection and deep meaning in everything his life touches. This is the kind of experience I always hoped church would be like: a place of purity, sense of calmness, and an awareness at letting my subconscious flow freely. The background fades, and I'm absorbed in Blanco's words. He embodies what I yearn to be, a tireless voice for the queer community. Before today, I never saw someone like myself in his position take center stage. His inclusion in the presidential inauguration marked a turning point for our country. It proved to me there are people who want to hear the queer voice included in the American narrative. That gives me courage for a better tomorrow.
Afterwards, I wait in line with my friend Angela to have City of Hundred Fires signed. I kill time (and nerves) by joking with her about random things I'll say to Blanco. Finally, when I'm the next person to meet him, I shoo Angela away with my phone in her hand so she can sneak an action shot from a safe distance. I'm sporting my signature lavender button-down shirt, slick khakis, and glossy, brown dress shoes. I aim to impress my idol.
When I greet Blanco, I notice he's apparently fighting a cold. We shake hands, he takes my copy, and I start to ramble. "I just want to say thank you for raising... " But I can't tell if he's actually paying attention to me as he looks down and scribes away in a silent flourish. I finish my spiel, but he doesn't say anything. Seconds roll by. It was probably all of three seconds but it felt closer to three minutes of pure agony for any anticipated response. Blanco finishes writing and looks up. He has such kind eyes. He's no showman, he's the real deal. His brown eyes convey a warmth full of compassion. I can tell he genuinely cares about what people say. That should've been obvious by his reading, but sometimes one isn't too sure if the performer will be the same when they're out of the spotlight. He says, "You should read my latest book. I explore gender fluidity and it has more poems about my husband." I nod eagerly, "I'll definitely check it out." Damn, if he was twenty years younger I'd be chasing him in hot pursuit. What a man! We chat for another minute before I remember there are another fifty people waiting to meet him. We break away and I am floating on cloud nine.
Outside I catch my breath and reorient myself. If Blanco can be both poet and engineer, I can balance my two passions - international development and theater. Sometimes my passion for theater gets lost amid the daily grind of graduate school. I've been meaning to edit the rough draft of a play I wrote last summer, but I keep putting it off. Why? There's no reason to wait. I got a busy schedule, but who doesn't? I can't forget about self-care. To me, that involves expressing my gratitude for life through an outlet that has always made the most sense to me. Theater allows me to find those words which rely on the heart that cannot be found in theoretical textbooks.  
As I stand in the February chill I'm reminded of Nick's last line of The Great Gatsby: "So we beat on, boats against the current, borne back ceaselessly into the past." No point wasting time over how I spent last semester solely focused on graduate work and nothing else. It was my first semester and besides, I was adjusting. But there are no excuses anymore. Now I beat on, this time with the current, borne forward to possibility.
---
Thank you Ian Hamilton for being the first guest contributor to MDP In The News.
All guest writer inquiries can be sent to emorymdp@gmail.com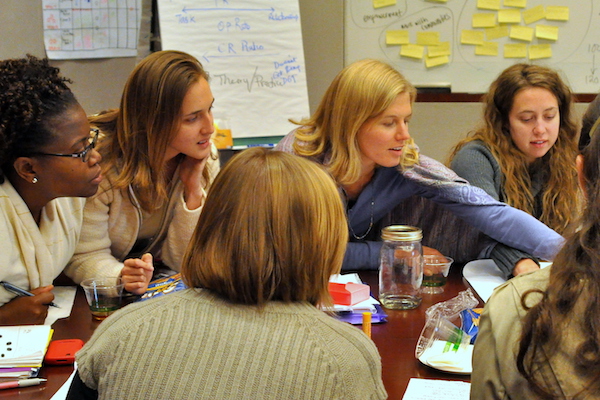 Curriculum
The Emory MDP curriculum combines natural, social, health sciences and management.
See Academic Overview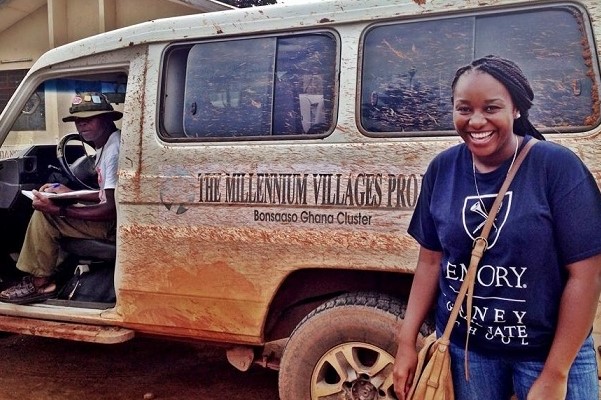 FIELD PRACTICUM
The Field Practicum is a core component of the Emory MDP curriculum.
Learn About Fieldwork