US-based Internships
US-based Internships
The Emory MDP Program recognizes that vulnerability, marginality, poverty, and injustice are not phenomena that only affect people in distant parts of the world. Rather, they are deeply connected with processes and realities that manifest themselves in the United States. 
Hosting the headquarters of leading humanitarian and relief organizations,such as CARE, The Carter Center, Habitat for Humanity, the Task Force for Global Health, and the United Methodist Church Committee on Relief, Atlanta is a focal point of global development.
At the same time, the Atlanta metropolitan area holds pockets of entrenched urban poverty and one of the largest and most diverse refugee communities in the U.S. Many non-profit agencies and community-based organizations serve these communities, including New American Pathways, Global Growers Network, and the Truly Living Well Center for Urban Agriculture.
Building on the city's historical role in the struggle for social justice, several organizations also seek to harness community networks and initiatives to engender transformative change, such as the Partnership for Southern Equity, the Center for Civic Innovation, and The Guild Community).
Most MDP students engage in internships with these partners during the academic year. Providing students with opportunities to work with international NGOs as well as non-profits focused on domestic issues deepens students' understanding of global-local development linkages. 
In any academic year, about 80% of MDP students engage in internships or assistantships which require a time commitment of 10-20 hours per week. In most cases, students receive compensation and/or academic credits for these experiences. Some of these experiences turn into jobs after interns graduate.
International students are eligible to engage in paid/unpaid internships but need to apply for authorization and comply with visa-specific requirements. Depending on visa status, during their first 1-2 semester(s) students may be limited to working on campus and/or with Emory affiliates, such as CARE and the Carter Center. Please reach out to the MDP Program Office for questions related to this process. 
The Task Force for Global Health
Samridhi Rajbhandari
Samridhi is interning as a communications intern at the Global Partnership for Zero Leprosy (GPZL) at the Task Force for Global Health, within the department of Neglected Tropical Diseases. GPZL is a coalition of groups committed to ending leprosy, also known as Hansen's disease. The partnership includes Novartis, the World Health Organization (as an observer), the International Federation of Anti-Leprosy Associations, the Sasakawa Health Foundation and the International Association for Integration, Dignity and Economic Advancement. It also includes the national leprosy programs of Brazil, Ghana, and India, the International Leprosy Association, scientific organizations and the academic community. Samridhi works on projects such as creating data analyses for persons affected by Leprosy in seventeen countries and their feedback on government and NGO responses to COVID-19 impacts. She also worked on the Zero Leprosy Toolkit: Best Practices to reach no disease, no disability, & no stigma. At the moment Samridhi is thrilled to be creating a video regarding Women Affected by leprosy and the COVID-19 Global Health Crisis that will be available on GPZL's YouTube channel.
USAID - Power Africa
Madeline Steiner
Madeline is currently working with USAID Power Africa through the Virtual Student Federal Internship program (VSFS). Power Africa is a U.S. Government-led partnership, coordinated by USAID, that brings together the collective resources of over 170 public and private sector partners to double access to electricity in sub-Saharan Africa. She is working with the Interagency team for the first part of the year helping the team in South Africa and D.C. in their efforts to promote U.S. commercial opportunities for companies with innovative, proven technologies and solutions to tackle the challenge of energy poverty and electricity access across sub-Saharan Africa. Madeline will work with the Private Sector team for the latter half of the year.
Terwilliger Center for Innovation in Shelter
Mona Elminyawi
Since October 2019, Mona has been working for the Terwilliger Center for Innovation in Shelter, a department of Habitat for Humanity International. She has co-authored an extensive literature review on the challenges and opportunities for sustainable and resilient building practices in informal communities. She also worked on the development of Thought Leadership content and materials, toward the goal of achieving sector influence. Finally, she has supported various management activities for the organization's MicroBuild Fund portfolio.
Oceana
CJ O'Brien
CJ is currently the Georgia Field Intern for Oceana, the largest international advocacy organization focused solely on ocean conservation. She is working with the Field Team in their efforts to pass local, state, and federal policies that ban single-use plastic and protect North Atlantic right whale populations. CJ 1) hosts virtual outreach events, workshops, and webinars 2) writes blog posts, Op-eds, and Letter to the Editors 3) conducts literature reviews 4) builds collaborative teams of volunteers wanting to work on plastic campaigns. She also served as the Program Assistant for Whale Week, a week dedicated to raising awareness about the highly endangered North Atlantic right whale, Georgia's official state marine animal. CJ is supervised by Emory MDP Alumna, Paulita Bennett-Martin (MDP 2016).
The Nature Conservancy
Bianca Patel
Bianca worked as the Community Engagement Program Analyst at The Nature Conservancy where she collected data and conducted an analysis of urban engagement and conservation efforts across 24 US cities. As the project lead, she developed the interview guide, conducted interviews with city leaders, and coded and analyzed the data.  As an integral part of the Community Engagement team, Bianca 1) compiled and shared tools, innovations, and best practices for equitable and sustained engagement, 2) informed and prioritized programmatic strategies, and 3) developed future community engagement plans. This dynamic project was supervised by Emory MDP Alumna, Myriam Dormer (MDP 2013). To learn more about their experience working together check out the MDP In The News story, What Is In Mentorship?
CARE International
Fiona Cooper
Fiona interned with the Knowledge Management and Learning team at CARE International, working to understand the different failures identified from their evaluations of their projects around the world. As a part of the, team she updated and maintained the CARE internal database library and the external library by collecting and analyzing different '5 minutes of inspirations' and project briefs. The Failures Project involved using MAXQDA to analyze the evaluations and organize them under a series of codes developed prior to the project. Then, they collected, coded, and analyzed the data to understand which failures were most common, which failures often came together, and how different regions were impacted by failures. With the support of Katie Pons (MDP 2019 and former CARE intern), Fiona wrote a report and produced several podcasts centered on the learnings and how this information might be used in the future.
Habitat for Humanity International
Mallory St. Claire
Mallory worked with Habitat for Humanity International, Terwilliger Center for Innovation in Shelter as a Market Systems Intern her entire graduate school career. She provided a lot of general support to the market systems HQ team, but mainly worked on drafting and editing different knowledge products (reports, etc.) that the team produced. Mallory also helped them set up and roll out their market systems database, which is going to collect quantitative indicators around monitoring and results measurement for our different market systems programs worldwide. A big highlight of the internship was attending the SEEP conference in Washington D.C. last year with the team when she attended many sessions around market systems, economic development, and MEAL; you can read more about the experience here.
Carter Center - Democracy Program
Melania Croce
Melania served as a Graduate Research Assistant at The Carter Center.  Drawing upon an extensive review of both scholarly and grey literature on Violence Against Women in Elections (VAWE,) Melania supported the Democracy Program's effort to design global research tools for quantitative and qualitative data collection on VAWE (i.e. key indicators, survey questionnaire, semi-structured in-depth interviews.) Given the complex, multifaceted, and sensitive nature of this phenomenon, incidents of violence, threat, and intimidation perpetrated against women during the electoral period are usually under-researched and under-reported. Thus, adopting a common framework of measurement would allow for stronger comparability of data across time and geographical areas, and would provide sound evidence to advocate for policy and legal changes.
IRC - Youth Futures
Rebecca Spens
Rebecca interned with the Youth Futures team at the International Rescue Committee (IRC). The IRC provides academic, vocational, and social support to refugee students at Clarkston High School, including social integration support, tutoring, academic counseling, and assistance with applications. Over the semester she focused on grant-maker research and grant writing to secure funding for the "Ready Set College!" program, a summer camp for refugee youth that aims to increase postsecondary enrollment, retention, and graduation rates. Rebecca also provided research to inform future grants supporting refugee youth in postsecondary education. The following semester she continued to research grant-makers for Youth Futures and supported preparations for "Ready Set College!" by launching a crowdfunding page and seeking out food donations. "My experience at IRC has informed my career direction and improved my workplace skills," Rebecca remarks. "It's fantastic to be surrounded by people working on such valuable and interesting projects!"
ANTI-RACIST DEVELOPMENT WORK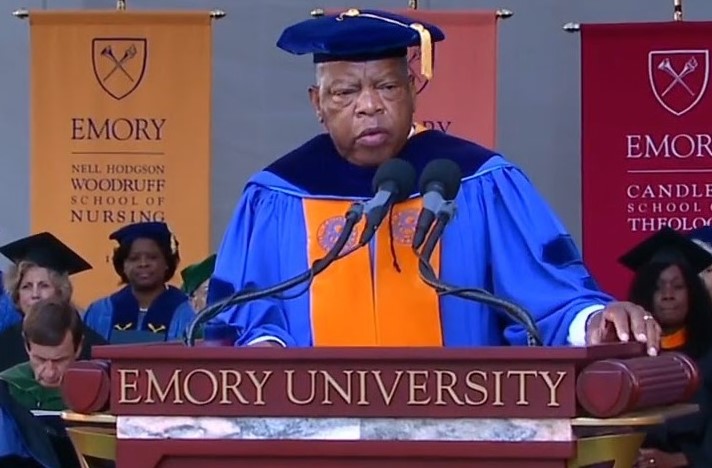 Find resources for social justice practice and pedagogy in the Development Studies Guide
See Resource Guide