Class of 2023
MDP Class of 2023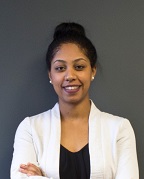 TSEDENYA BIZANI
Tsedenya was born in Ethiopia and immigrated to the United States at a young age. She majored in International Studies and Political Science with a minor in Middle East Studies at the University of Kansas. She then worked at the Chicago chapter of the Council on American-Islamic Relations, first as an Outreach Intern, then as a Muslim Youth Leadership Symposium Fellow and, finally, as Operations Manager. Throughout her time at CAIR-Chicago, Tsedenya was exposed to legal, social, and political activism, community engagement, and media relations work. She then moved back to Ethiopia and was employed at a private investment law firm, which introduced her to the Ethiopian legal system and had her engage with key organizations, private companies, and government entities within the investment and legal sectors. Having returned to Ethiopia after so many years abroad, Tsedenya felt the stark reality of youth unemployment and became increasingly aware of development's many complexities. Within the MDP program, Tsedenya hopes to actively immerse herself in the program's holistic, integrated problem-solving methods that address poverty throughout the Sub-Saharan region and other developing countries. In her spare time, Tsedenya can be found reading, attempting to cook, volunteering, traveling, and spending time with family and friends.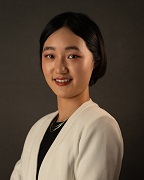 GAIL CHENG
Zhiqing "Gail" Cheng is from Chongqing, China. Gail received her Bachelor of Science degree in Tourism, Events and Recreation Management from the University of Florida with a minor in Geography. Her research interests focus on sustainable tourism and ecotourism in Costa Rica and other Latin American regions. While attending the University of Florida, Gail engaged in the Center for Student Service and Leadership. Off-campus, she volunteered and interned with several local non-profit organizations focusing on the environment and education. After graduation, she moved to Upstate New York to join The Wild Center, a natural history museum in the Adirondacks, as an education intern to provide information on natural history education programs to visitors. Later, she moved back to her hometown Chongqing, the fastest-growing tourism destination in China, and worked in Chongqing Marriott Hotel. Gail wishes to focus on sustainable tourism development and local community economic development. In her spare time, she enjoys cooking, traveling, stand up paddling, and scuba diving.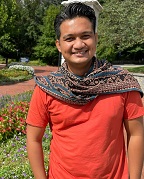 RICKY DJO
A Savunese, born and raised in Kupang, East Nusa Tenggara Province, Indonesia, Ricky earned his Bachelor of Communication Science in TV Broadcasting from Merdeka Malang University Indonesia. After graduating, he established various development projects known as the "Daniel Movement" on Savu Island, his ancestor's land. Savu Island has the lowest human development index in Indonesia; 30% of its inhabitants live below the poverty line. The scope of Ricky's work included running a business using household waste from coconuts to produce and sell coconut shell charcoal in Bodae village. The business's revenue funded an English Learning center with forty-five students. Students in high school seeking higher education were provided scholarship information and access to well-named universities in Indonesia. Some of the students got scholarships from the Indonesian government and one of them got a fully funded scholarship to the best Christian university in Indonesia. Ricky also served as an initiator of 2000 coconut tree plantations in Bodae village as a next step to expand the capacity of coconut charcoal businesses. Ricky's personal interests focus on community development, economic development, and education development for children and youth. He enjoys spearfishing, photography, taekwondo, and traditional and modern dance.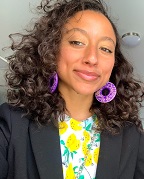 ADRIENNE HINES
Adrienne Hines, a Philadelphia native, earned her Bachelor's in Political Science and Certificate in Political Economy from Temple University. After graduating, she worked for Pennsylvania State Representative Malcolm Kenyatta as Outreach Coordinator, developing plans for strategic community outreach on the representative's legislative priorities. After travel to Israel and Palestine, and work in democratic protections at the Committee of Seventy and small industry growth at the Economy League of Greater Philadelphia, she explored expanding state capacity, foreign aid, and democracy promotion in her undergraduate thesis, "The Veil of Democratic Assistance in Morocco: Reform Effectiveness at the Intersection of Economic Improvement and Public Opinion, Post Arab Spring." Adrienne was Intellectual Property Assistant for her Firm's Global Practice Group Leader, and worked with foreign and domestic start-ups, large companies, and pro bono applicants from the life science and biotechnology industries. During this time, she served as Teaching Assistant for the Temple University course "The Politics of the Middle East" and assessed evidence-based programming in improv education for the Unscripted Project. With MDP, Adrienne intends to evaluate policy, leverage public-private partnerships, and create economic opportunities for communities of color through impact investment and local governance. Adrienne enjoys fashion, listening to music, and writing poems.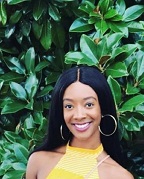 GABRIELLE JONES
Gabrielle Jones is a fiery southern belle born under the watery sign of Cancer in Huntsville, Alabama. She received her BA in Modern Languages with a concentration in Spanish at Louisiana Tech University and worked as a missionary in Puerto Plata, Dominican Republic, before obtaining her MA in Spanish at Georgia State University. Gaby is a Holistic Birth Doula, Traditional Midwifery student, and reproductive justice advocate committed to providing accessible, equitable reproductive healthcare and centering the needs of black and brown women. She has spent the last two years as a Perinatal Assistant for the Innerlight Holistic Doula Mentorship Cohort and studying birth through the lens of Quantum Midwifery. She currently works at the Feminist Women's Health Center, a non-profit rooted in black feminist thought and committed to providing accessible, compassionate abortion and gynecological care to anyone who needs it, regardless of their socioeconomic status or sexual identity. Her research centers on lowering the infant and maternal mortality rates in marginalized, underserved communities and ensuring these communities have access to clean water and nutritious foods to support healthy, viable pregnancies. Her favorite pastimes include brunching, spa days, studying Ayurvedic medicine, traveling to new places, and trying out new cuisines.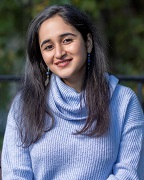 KASHISH KALWANI
Kashish Kalwani was born in Jodhpur, India, but has spent her childhood in the UAE, Russia, Denmark, and India. She received her Bachelor of Arts from Miranda House, University of Delhi, with a major in English Literature and Political Science and a minor in Philosophy. She also has a diploma in the Indian Classical Dance form Bharatanatyam. Kashish volunteered with several organizations such as GRAVIS, Robinhood Army, Sarvahitey, and GIRLZ, FTW, which explored different aspects of development. Following graduation, Kashish is now a certified meditation instructor under the Heartfulness Institute. She volunteers as an editor for The Heartfulness Magazine and conducts meditation workshops and sessions for young adults across the world free of cost. Kashish is now shifting to the United States to join her husband. In her free time, Kashish enjoys reading, journaling, watching Korean dramas, and tackling her never ending To-Do List!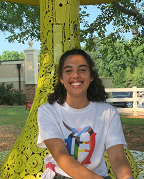 ALYSSA MILTON
Born in Detroit, Michigan, and raised in Atlanta, Georgia, Alyssa Milton received her Bachelor of Science at Emory University. Inspired by the beauty of her mother's native land in Jamaica, she decided to major in Environmental Science. She also attended Emory Oxford, where she was a Volunteer Oxford Coordinator and developed logistic, communication, and coordination skillsets by planning Alternate Break trips. The trips included a project to help restore marsh health after Hurricane Katrina and an initiative to plant native trees in Asheville, North Carolina. She also served as a member of Volunteer Emory, where she partnered with Remote Area Medical (RAM) to help administer healthcare to residents in rural communities. During the pandemic, she developed a keen interest in racial and Environmental Justice and volunteered with Wholesome Wave to promote new Supplemental Nutrition Assistance Program (SNAP) benefits to help underserved communities obtain affordable fresh fruits and vegetables at farmers markets during the pandemic. She also hosted COVID-safe, car-caravan Black Lives Matter protests during the pandemic. In her spare time, she enjoys reading, running, and learning languages. Most recently, she is learning Arabic and Spanish.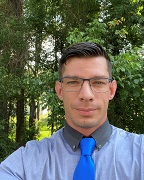 AARON ODUM
Aaron Odum, a Savannah, GA native, graduated cum laude from Savannah State University with a Bachelor of Arts in Homeland Security and Emergency Management. In his undergraduate studies he specialized in disaster risk reduction planning for vulnerable populations including women, the disabled and elderly, and minorities. Aaron volunteered for three years as a disaster action team member for the Red Cross where he responded to incidences of fire, flooding, and tornadoes and provided relief to disaster victims. He also worked alongside the Georgia Emergency Management Association, Chatham Emergency Management Association, and Georgia National Guard during the 2017 Hurex full-scale hurricane preparedness drills on Tybee Island, GA. In 2019, Aaron represented the Salvation Army of Savannah in the Savannah emergency operations center during Hurricane Dorian, where he coordinated the production and distribution of thousands of meals to first responders. Aaron also raised over half a million dollars developing and executing fundraisers in his role as special events coordinator for the Salvation Army. He desires to use his MDP training to develop and implement disaster risk reduction policy as it relates to vulnerable populations in the Global South with an emphasis on incorporating indigenous knowledge in disaster preparedness and response.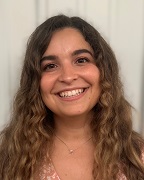 EMILY ELIZABETH PENROSE-THOMPSON
Emily Elizabeth "EE" was born in South Florida where she spent her childhood until moving to the small town of Madison, Georgia. In 2018 she earned her BA in Political Science and BS in Psychology with minors in Spanish and Justice Studies from Georgia Southern University. Following graduation, Emily Elizabeth worked at the Most Magical Place on Earth, Walt Disney World and Resort, as an Attractions and Entertainment Cast Member. The following year she returned to Georgia to serve an AmeriCorps service year with Covenant House Georgia for youth experiencing homelessness. During this time EE served as a Drop-In and Education specialist, providing resources and services to both residential and non-residential youth served at Covenant House. Since completing her service year, she has remained at Covenant House Georgia serving first as a Residential Advisor and currently serves as the Housing Navigator helping youth acquire housing and create long lasting housing stability. Emily Elizabeth's interests include Human Rights, Sustainability and Food Security, which she believes are all deeply entangled. She hopes to continue to work in non-profits and government to combine social change and policy implementation to foster sustainable solutions.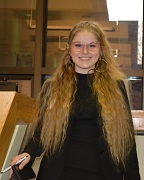 CHELSEA RILEY
Chelsea Riley was born in Maine. Her father's military service led her to live in Texas, Missouri, Washington, and, finally, Georgia. She attended Georgia Southern University and earned three Bachelors of Arts in Political Science, Spanish, and International Studies. While there, Chelsea wrote an Honors undergraduate thesis entitled, "The Culture Gap: The Role of Culture in Successful Refugee Settlement." She studied abroad in Colombia, presented research to the Southern Political Science Association in Puerto Rico, and served as Assistant Advisor to the nationally ranked Georgia Southern Model United Nations team. Chelsea plans to use the MDP program to achieve her goal of working in non-profit management, helping migrants, refugees, and youth. She is also passionate about social justice, having spent a year and a half working for the Georgia Southern Office of Inclusive Excellence. Chelsea most enjoys reading, hiking, and spending time with her fiancé and their two dogs, Opal and Onyx.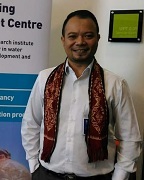 ROBERTUS RIOPUTRA
Robertus Rioputra, or "Rio," is originally from Flores Island, Indonesia, which is known for having Komodo dragons living in the wild. He worked for an international NGO named Plan International for 10 years, gaining expertise in Water Sanitation and Hygiene (WaSH). He graduated from the Social and Political Sciences Faculty at National Development University, Yogyakarta Indonesia, and became experienced working in the development sector in Eastern Indonesia. Rio seeks to foster a sense of humanity to uplift communities that lack sanitation services. He uses his deep knowledge of these communities to keep their environments safe from disease and find collaborative solutions to problems connected to improper sanitation. For Rio, attending Emory MDP will strategically increase his knowledge through exchange with fellow development practitioners from across the globe, which will allow him to confront the full breadth of WaSH-related development. Joining the MDP family is a blessing because of Emory's robust, world class involvement in global health, especially in relation to WaSH. After finishing his graduate studies, he expects to return to his community and work collaboratively with local government and NGOs to strengthen the capacities of civil society and local government in his home town of East Nusa Tenggara province.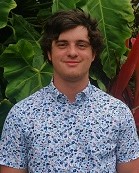 NICK RODGERS
Nick Rodgers is an Atlanta native who received his bachelor's degree from the University of Georgia in International Affairs with a concentration in international security. During his undergraduate studies, Nick worked as an intern with The Wild Dolphin Foundation, an ecotourism non-profit off the coast of Waianae, Hawaii, that focuses on conservation research and environmental protection of different species of marine wildlife and ocean habitats. Post-undergraduate, Nick secured an internship with the Conflict Resolution Program at The Carter Center, working under the Access to Justice in Liberia Project. He assisted in the project's efforts to support community justice and civic education services through community engagement, local justice institution strengthening, and national-level legal policy reform. After serving as intern, Nick accepted a position as a Program Assistant with the Rule of Law Program at The Carter Center where he backstopped projects focused on advancing good governance and trust to transform lives through enhanced accountability, transparency, and inclusive access to information and justice. He currently serves as a Program Associate with the same program, with a primary focus on projects in Liberia. In his free time, Nick enjoys traveling, cooking, going to concerts, and spending time with friends and family.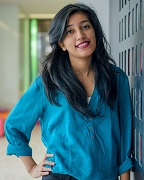 LAMIA SHAMA
Lamia was born and raised in Dhaka, Bangladesh. She earned a Bachelor of Business Administration from the University of Dhaka. After graduation, she went on to work for DAI and ACDI/VOCA on USAID-funded market systems programs focusing on agriculture, livestock, and nutrition. Lamia has over five years of experience developing and leading communication strategies, catalyzing private sector engagement, managing multiple stakeholders, and assisting with research and impact assessments. Lamia is passionate about food security and climate change, and she intends to use her MDP experience to lead more effective collaborations across disciplines to generate sustainable development outcomes. Lamia spends her free time traveling, dining out, and spending time with her family and friends.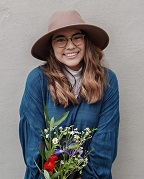 MAKAYLA STADLER
Makayla Stadler was born and raised in Reidsville, North Carolina. She received a Bachelor of Arts in Psychology from Lee University in Cleveland, Tennessee.  During her time at Lee, she also minored in Deaf Studies and became proficient in American Sign Language. Makayla was selected to be a McNair Scholar while in her undergraduate years, enabling her to conduct a qualitative case study on conservation projects from the World Wildlife Fund and the Nature Conservancy. She is passionate about non-profit organizations and conservation efforts founded in education and inclusion. She plans to utilize her passion and skills gained from the Development Practice program to pursue a career in Sustainable Development. In her free time Makayla loves being outdoors, hiking, traveling, and finding a good local cup of coffee!
YEMESRACH TADESSE
Born in Ethiopia and raised in Atlanta, GA, Yemesrach Tadesse studied Anthropology and Economics at Emory, beginning her service in Ethiopia in 2009 as part of Emory's Maternal and Neonatal Health in Ethiopia Partnership research team. Yemi returned to Ethiopia with Dr. Craig Hadely to research the causes and consequences of food insecurity in urban and rural populations. This inspired Yemi to start Action4Words, a non-profit that facilitated access to quality education in rural Ethiopia through collaboration with communities and private sector actors. She led the building of a school and distributed books to schools in southwest Ethiopia. In 2013, Yemi moved to Addis Ababa and oversaw the affairs of the Robert Sinskey Eye Institute. She became Partnerships Manager at iceaddis, the first technology hub and incubator in Ethiopia. Yemi entered the agriculture sector as the Human Center Designer for ProPortion. In 2018, Yemi earned a Sustainable Business Management diploma from the Swedish Institute. Before starting at Emory MDP, she was the project manager for the Swiss impact investment firm Swaye Ventures Inc. Working and travelling all over Europe, Africa, and Asia has greatly strengthened Yemi's understanding of collective experiences and shared values in spite of cultural or economic differences.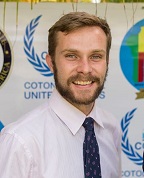 NICK THEYERL
Nick Theyerl grew up in Rockford, Illinois and graduated with a B.A. in Diplomacy and World Affairs at Occidental College in Los Angeles in 2015. During his studies, he researched the post Arab Spring revolutionary political transition in Tunisia and interned at the US House of Representatives and with the Rwandan Mission to the United Nations. After graduating, he worked as a legislative aide in the Illinois State Senate before serving as a Rural Community Health Adviser in Benin, West Africa with the Peace Corps. He stayed on for a third year in Cotonou, Benin working with Population Services International managing a nationwide network of peer health educators. After closing his service with Peace Corps, he has worked as a Technical Adviser for the Carter Center's Guinea Worm Eradication Program in Chad. He is interested in emergency management for vulnerable populations experiencing acute humanitarian crises.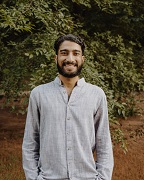 KIRAN TOPIWALA
Born and raised in Austin, Texas, Kiran graduated from Texas A&M University with a degree in Industrial and Systems Engineering in 2021. While at Texas A&M, he founded a chapter of the Global Engineering Brigades and was able to work with civil engineers on clean water systems for rural communities in Honduras. This eye-opening experience introduced him to the world of sustainable development, which Kiran found very interesting. But at the time, he did not know a lot about it. Kiran decided to further his studies with the MDP Program at Emory, eager to learn more, ask thought-provoking questions, and further apply his engineering and problem-solving skills. Most recently, Kiran has been able to work with CARE as a Post-Project Sustainability Intern, analyzing the sustainability of impacts from development projects implemented around the world. In his free time, Kiran likes to stargaze, cook, read, travel, and take photos.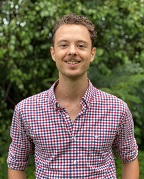 NIGEL VAN DER WOUDE
Nigel van der Woude is a native of Cortland, New York, and received his BA in Linguistics from Cornell University with minors in French and Creative Writing. An avid traveler and language learner, he spent his next few years post-graduation teaching English abroad first as a Fulbright Scholar in Marsala, Italy and then at a university in Lanzhou, China. His travels, agricultural upbringing, and years in the winemaking industry sparked his interest in Sustainable Food Systems, Agriculture, and Forest Conservation. With the skills built through MDP, he is eager to help communities in the USA and around the world increase food sovereignty while protecting the environment. In his free time, he enjoys expanding his language repertoire, baking bread, singing, identifying native plants, and spending time with his dog.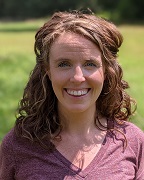 AMANDA WEST
Amanda West was born and raised south of Denver, Colorado, and received her bachelor's degree in International Studies from Baylor University. Upon graduating she worked with a faith-based service program in Denver focusing on creative and dignifying solutions to food insecurity. She then moved to Lusaka, Zambia, to coordinate exchange programs for young adults coming to and from Zambia who are interested in serving with local non-profits focused on peace, development, and relief with the Mennonite Central Committee. This allowed Amanda to gain firsthand experience of development work on the ground as well as to build relationships with inspiring young adults seeking to be change agents. She has spent the last two years working for a United Methodist Church mentoring youth and educating/engaging the congregation on holistic international and local development. Her hope is to learn more about sustainable participatory development with the overall goal of working with underserved communities such as refugees and the people of the Global South. In her free time, she loves spending time with her husband/daughter/dog, practicing yoga, and finding beauty in the everyday.