Current News and Events
Current News and Events
Rostam Zafari (MDP 2022) Recognized for Building Humanitarian Venture Capital Fund
July 14, 2021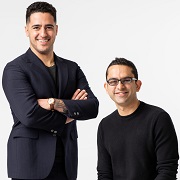 Rostam's background in social enterprise has culminated recently in the establishment of World Within Ventures, a $20 million venture capital fund dedicated to investing in and growing humanitarian-focused startups. Zafari started World Within with Mehul Bhagat, Board Chair for Emory's Global Health Institute. The two met as undergraduates at Emory and shared mutual academic and entrepreneurial interests as well as the desire to "create a world they would be happy to be born into at random." Prior to joining MDP, Rostam helped found Rapid Ebola Detection Strips while an undergraduate. World Within's investment strategy is focused on long-term patient capital and operational support for its portfolio investments. Zafari and Bhagat aim to use World Within and their combined talents at building companies to unlock the creative potential of humanitarian and development ventures. We are proud to see our students get recognition and spearhead change by applying their hard-earned skills. Read more here >>
MDP Alumna Caitlin McColloch Wins CDC Early Career Innovator Award
June 28, 2021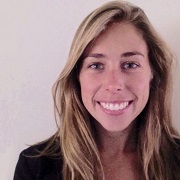 In May 2021 Cait McColloch (MDP '14) won an Early Career Innovator Award (Program category) from CDC Young Professionals Network, recognizing her exemplary contributions to the Laboratory Leadership Service Process and Early Outcome Evaluation in 2019 and 2020. Her work led to multiple program improvements and long-term benefits to CDC Public Health Laboratories. Cait joined CDC as a Health Scientist after serving as a CDC Evaluation Fellow with the Epidemiology Workforce Branch, where she designed and implemented internal evaluations for public health development programs. Prior to CDC, Cait worked with the Carter Center's Latin American and Caribbean program, and with the International Justice Mission in Guatemala. She came to Emory after serving as a Peace Corps Volunteer in Kazakhstan. Congratulations, Cait—we are so proud of you!
Emory MDP Becomes a Jesuit Volunteer Corps' Partner Graduate Program
June 21, 2021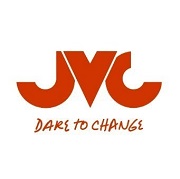 Emory MDP is happy and proud to announce a new partnership with the Jesuit Volunteer Corps (JVC) an international non-profit organization that aims to create a more just world by fostering the growth of leaders committed to service, social justice, and building community. Active for over 60 years, JVC deploys about 250 Jesuit Volunteers (JVs) to work with 175 service agencies in over 40 communities in 6 countries (including US) and has thus far developed a network of over 12,000 alumni. They work in roles such as case manager, outreach worker, community organizer, and housing and employment specialist. Those experiences, and the formation JVs receive prior and during their service, make them strong candidates for engagement in the Emory MDP program and for global development and humanitarian careers. Emory MDP joins many other top-ranked programs and universities that partner with the JVC. Former JV applicants who are accepted and enrolled full-time in the Emory MDP program will be eligible for a partial tuition scholarship and application fee waiver. Read more here >>
Eri Saikawa's Research Prompts EPA Action on Lead Contamination in Low-Income Community
June 2, 2021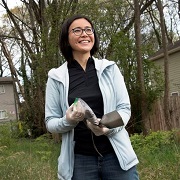 MDP Advisory Committee member Prof. Eri Saikawa (Environmental Sciences) and her research team have discovered alarming levels of lead in the backyard and home gardens of a low-income, mostly Black, neighborhood of West Atlanta. The high lead levels are due to the dumping of hazardous waste that was used to fill in low-lying areas in the neighborhood years ago. Childhood exposure to lead can stunt growth and cause brain damage, affecting concentration and other cognitive functions. Dr. Saikawa's work was innovative in its reliance on community engagement in a year when COVID-19 constrained in-person interactions. To mobilize community participation in soil testing, she partnered with the Historic Westside Gardens, a local grassroots organization focused on wellness education and health advocacy. The findings are drawing substantial media attention and public response. The Environmental Protection Agency (EPA) has classified more than 1,000 properties in the community as a Superfund site, meaning that the EPA will take responsibility for cleaning it up. MDP congratulates Prof. Saikawa on her socially relevant and impactful work. Learn more >>
CJ O'Brien (MDP 2021) Wins Robert S. Hascall Sustainability Innovator Award
May 24, 2021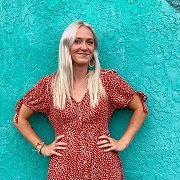 CJ O'Brien has been recognized for her leadership of the Plastic Free Emory Project. Together with co-founder and collaborator Nithya Narayanaswamy, CJ  received a Sustainability Innovator Award from Emory's Office of Sustainability Initiatives. The two activists worked together to develop a Break Free From Plastics Pledge that seeks to eliminate all unnecessary single-use plastics on the Emory and Oxford campuses by 2025. The pledge has garnered wide support across Emory, including the University Senate, and CJ and Nithya aim to soon have their pledge signed by President Fenves. To raise awareness and jumpstart the campaign, CJ published an article in the student-led Emory Wheel. Read about CJ's award here >> [On June 16th, President Fenves signed Plastic Free Emory's "Break Free From Plastics Pledge." Click here to read about it >>]
Emory MDP Forms Strategic Partnership with Repair the World
May 10, 2021

Emory MDP has joined the network of university programs that partner with Repair the World, a national non-profit organization committed to mobilizing young adults in pursuit of a just world with the intent of igniting a lifelong commitment to service. The Repair the World Communities Fellowship consists of a two-year engagement with grassroots organizations focused on education, housing, and food justice in neighborhoods of Atlanta, Baltimore, Chicago, Detroit, Miami, Pittsburgh, and New York City. This partnership will provide fellows with "access to a stellar and rigorous program that will strengthen their field-based knowledge and practice of sustainable development" says Cindy Greenberg, CEO of Repair the World. Applicants who are current or former Fellows and who are accepted and enrolled full-time in the Emory MDP program will be eligible for a partial tuition scholarship and application fee waiver.  See press release here >>
Carter Center Staffer Rachel Lastinger (MDP 2017) Advocates for Election Monitoring in U.S.
May 3, 2021
Rachel Lastinger (MDP '17) published an article  in the Georgetown Journal of International Affairs advocating for monitoring of U.S. elections "to catalyze reform in a manner similar to [its] international counterparts."  In writing the piece - co-authored with her colleague Sandra Urquiza - Rachel has drawn upon her experience as a Program Associate at The Carter Center working with international election and citizen observation projects in multiple countries, including Nepal, Myanmar, and the Democratic Republic of the Congo. While an advocate for democracy internationally, the U.S. is "an outlier in terms of the degree to which election observation is consistently welcomed and conducted" domestically, asserts Lastinger. As trust in American democratic institutions declines, a robust monitoring effort in the U.S. would also produce "clear recommendations for post-election work on electoral reform", Lastinger notes "and enhance transparency and public trust in the electoral process." MDP is proud to see its alumni thinking critically on the frontlines of democratic governance and reform. Read Rachel's article here >>
MDP Alumni Team Builds Community Center, One of the Largest Libraries in South Sudan
April 21, 2021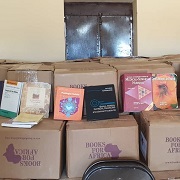 The Haddonfield Resource Center, soon to be renamed The Aweil Community Center, houses a library of new and used books, e-books, laptops, a computer lab, and space for community events in the city of Aweil in Northern Bahr El Ghazal State, South Sudan. Garang Buk Buk Piol (MDP '20) started the center in 2012 as a small reading area for children in Aweil. It then grew into a community space housed in a semi-permanent structure. Now, a fully-fledged, permanent building is complete and due to open this summer, thanks to a collaborative effort between Garang and his classmate Bianca Patel (MDP '20). Garang and Bianca are beginning their second round of fundraising for electrical wiring equipment, solar inverters and charge controllers, and building materials. This project is dedicated to a financially transparent, community-centered approach that challenges and decolonizes typical narratives of aid and development. Soon, The Aweil Community Center will be up and running as a vital gathering area and one of the largest libraries in South Sudan—an inspiring example of asset-based and locally led initiatives for community development. Read our article on The Aweil Community Center here >>
Plastic Free Emory: MDP Student and Alumna Discuss "The Story of Plastic"
March 31, 2021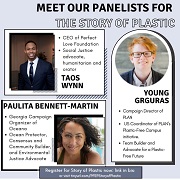 On March 18th, The Plastic Free Emory Project screened The Story of Plastic and hosted a virtual panel discussion, which featured the talented story-tellers and activists Taos Wynn and Young Grguras, along with alumna Paulita Bennett-Martin (MDP 2016), an ocean defender and the Georgia Campaign Organizer for Oceana. (While completing her MDP degree, Paulita's summer practicums tackled plastics pollution in Belize and investigated a culinary solution to the invasive presence of lionfish in the Caribbean Sea!) The Story of Plastic is a documentary that "presents a cohesive timeline of how we got to our current global plastic pollution crisis," a crisis whose "ugly truth" has been "[manipulated by] the oil and gas industry" for decades. Co-founded by CJ O'Brien (MDP 2021) and Emory student Nithya Narayanaswamy, The Plastic Free Emory Project is a student-led initiative dedicated to eliminating single-use plastics on Emory's Atlanta and Oxford campuses. You can support Plastic Free Emory's "Break Free From Plastics" Pledge here! >>
Check Out Sam Friedlander's (MDP 2018) Accomplishments at J-PAL!
March 24, 2021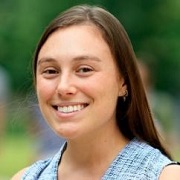 Sam Friedlander has worked in policy and communications at the Abdul Latif Jameel Poverty Action Lab (J-PAL) at MIT for the past three years since graduating from MDP in 2018. Throughout her time at J-PAL, she has co-authored a number of thought leadership pieces along with J-PAL's Executive Director Iqbal Dhaliwal. Most recently, this included a piece in Project Syndicate, known to some as "the world's smartest op-ed page," arguing that the so-called small details of social policies and programs are just as important as the seemingly bigger questions of economic growth. Previously, she wrote another piece in Project Syndicate about the ways that the international development community can learn from the pandemic and adapt accordingly. She also co-authored a chapter in a forthcoming book on how J-PAL forges strong collaborations to scale up effective programs. J-PAL's co-founders and directors Abhijit Banerjee and Esther Duflo were awarded the Nobel Prize in economics in 2019 for their experimental approach to alleviating global poverty.
Andie Tucker (MDP 2017) to Facilitate Panel on Women in Global Health
March 17, 2021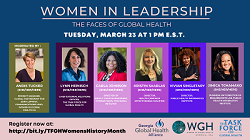 For National Women's History Month, the Task Force for Global Health (TFGH), in partnership with the Georgia Global Health Alliance, will hold a virtual panel event called "The Faces of Global Health: Women in Leadership" on Tuesday, March 23. This all female panel will share their experiences as leaders in the field of global health, and the webinar will be facilitated by MDP alumna Andie Tucker, program manager for TFGH's Global Partnership for Zero Leprosy. The Task Force for Global Health works to eliminate or bring under public health control the world's worst and most intractable diseases while strengthening health systems, so countries can protect the health of their populations. Several Emory MDP students have partnered with TFGH teams to support this work. Click here to sign up for the webinar >>
MDP Alumna to Deliver Plenary Speech at Global Science Gathering
March 4, 2021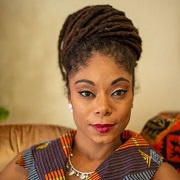 Myriam Dormer has been working with the Nature Conservancy since she graduated in 2013, after interning with TNC during her time with Emory MDP. She currently serves as Community Engagement Strategist for their Build Healthy Cities program, coordinating the community engagement aspects of urban conservation programs, and has hosted several MDP interns over the past several years. Myriam was invited to deliver a plenary speech on cities during a month-long Global Science Gathering organized by TNC for March 2021. Other distinguished plenary speakers include Nobel Prize Winner and economist Dr. Esther Duflo; the Africa Region Director for the World Wide Fund for Nature, Dr. Alice Ruhweza; and Haskell Indian Nations University's Prof. Daniel Wildcat. The Gathering consists of series of events focused on the following themes: Climate; Land and Waters; Connecting Science and Sharing Tools;  and Monitoring, Evaluation, and Learning. You can view the agenda here. Click here to watch a recorded video of Myriam's plenary speech >> 
Billy Rice (MDP 2017) advocates for greater voice and visibility of Native Americans at Emory
March 1, 2021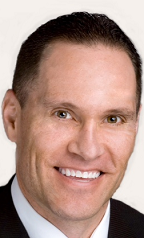 Billy Rice is featured in a poignant article published by Emory's Office of Sustainability Initiatives and posted by the Native American and Indigenous Engagement at Emory. He is a member of the Coquille Tribe, whose ancestral homeland is in the Pacific Northwest and has served his tribe in various leadership roles centered on public health, environmental sustainability, and economic development. While studying for his MDP, Rice conducted a field practicum in Tibet to help local entrepreneurs to successfully compete in global markets and in Liberia, where he conducted a pilot study on the traditional legal processes—as part of a global effort to promote peaceful and inclusive societies for sustainable development by ensuring access to justice for all and building accountable institutions at all levels. Since then, he has worked in corporate social responsibility and stakeholder engagement with various companies promoting sustainability. In the article, Rice acknowledges Emory's expressed intent to become a more racially just community. The article stresses that such efforts need to go beyond a Black/white binary. He calls for more meaningful engagement with Tribal Nations—in particular, the Muscogee (Creek) Nation on whose land the Emory campus is built—and for concrete steps to ensure that Native Americans are seen, heard, and welcome on campus. Read the article here >>
MDP Advisory Committee Member Receives Internationalization Award
February 15, 2021
Emory University has awarded Dr. Usha Ramakrishnan, a member of MDP's Advisory Committee, the Marion V. Creekmore Award for Internationalization, which is given each year to an Emory faculty member who excels in the advancement of Emory's commitment to internationalization (MDP Founder, Prof. David Nugent, received the award in 2016). Dr. Ramakrishnan's vast body of research includes large, randomized control trials that investigate the effects of different nutrition interventions on infant health. She is an active member of the American Society of Nutrition and has also collaborated with leading development  organizations like UNICEF, WHO, the World Food Program, and the Bill and Melinda Gates Foundation. Dr. Ramakrishnan directs Emory's newly minted PhD in Global Health and Development. MDP celebrates Dr. Ramakrishnan for her invaluable contributions to child and maternal health and for embodying the spirit of global cooperation that is needed to overcome the world's toughest challenges.
Josh Griffin (MDP 2021) Appears on MLK-Day Panel
February 9, 2021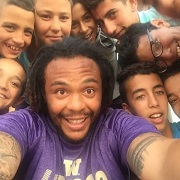 On Martin Luther King Jr. day, Josh Griffin (MDP 2021) appeared in an intergenerational panel discussion called "Bridging the Generational Divide" organized by the King Center for their Beloved Community Global Summit. The panel spanned four generations and featured Dr. Bernice King, Ziad Ahmed, Greta Rios, and MDP's Josh Griffin, who currently works as a graduate assistant at the Carter Center and at its Human Rights Program. In his own words: "Being part of that discussion was not an individual experience, it was a collective of life experiences that brought me to that opportunity, and if it was not for the support of others, I would not have been in that conversation."  Also check out the roundtable on Social Justice through the Arts Josh organized and hosted for the Carter Center's Forum on Human Rights. Learn more >> 
Bean Fans: MDP Asst Director and Colleagues Publish Virtual Ethnography
February 2, 2021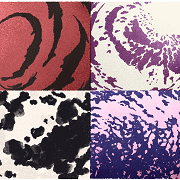 With COVID-19, subscription models are all the rage. From movies to pet food, consumers are opting to "sign-up" online to receive products through periodic shipments. Each quarter The Rancho Gordo Bean Club ships a rotating surprise selection of dry heirloom beans to its subscribers. Hilary King, Yulia Chuvileva, and Andrea Rissing penned an article about the Bean Club Facebook group and the practices that govern the exchanges. We aren't talking about a can of supermarket black beans arriving in the mail. Typically, farmers around the world grow generic crop varieties to meet the demands of a global consumer base that has never heard of, for example, the Ayocote Morado bean. Instead, the Bean Club's business model is based on asking farmers to stick to what they know best. The Rancho Gordo Bean Club shows that an enthusiastic market exists for the beans that are part of the cultural heritage of small-scale farmers. The authors declare, "Out of the Bean Club grow shoots of anti-capitalist relations that help people to eat healthier and lower on the food chain." Read the article >>
MDP Advisory Committee Member Named one of 100 Most Influential Georgians in 2021
January 27, 2021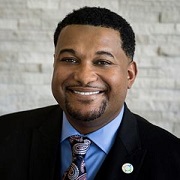 Nathaniel Smith, founder and Chief Equity Officer of the Partnership for Southern Equity (PSE), has been included on Georgia Trend magazine's illustrious list of the 100 Most Influential Georgians. A key MDP partner organization, PSE engages in coalition building and policy advocacy to advance racial equity and shared prosperity for all in metropolitan Atlanta. PSE notably created the Metro Atlanta Equity Atlas, the American South's first equity mapping tool, and has programs on health, energy, housing, and economic justice, which several MDP students have interned with. A child of the Civil Rights Movement and an Atlanta native, Mr. Smith holds a Bachelor of Arts in Urban Studies from Morehouse College and a Master of Science from the New School. Prior to founding PSE, he served with Emory's Office of Community-University Partnerships. MDP is honored to have Mr. Smith and the rest of the MDP Advisory Committee to provide invaluable guidance to the program.
Kayla Bellman (MDP 2020) Launches Equitable Coffee Company
January 12, 2021
After graduating in the Spring of 2020, MDP alumna Kayla Bellman channeled her dual passions for social justice and high-quality coffee into Finca to Filter, a new coffee company in Atlanta partnering with local roasters "to create co-branded coffees which embody values of transparency, inclusion, and equity." Finca to Filter proudly displays the price paid to the growers for the green (unroasted) beans in the hopes that through this radical transparency, customers will start to talk, and think, about how those aromatic beans and grinds wind up on our kitchen shelves. Learn more >>