2020 News
2020 News
CJ O'Brien (MDP 2021) Cofounds Initiative to Make Emory Plastic Free
December 21, 2020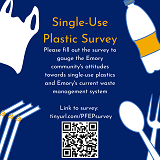 This Fall semester, CJ O'Brien and Nithya Narayanaswamy (Oxford College 2023) cofounded the Plastic Free Emory Project, a student-led initiative dedicated to tackling single-use plastic on campus through outreach, education, policy changes, and, most importantly, a pledge that would phase out unnecessary single-use plastic by a certain date. After Emory's Undergraduate student government passed Resolution 54sl4 - Break Free from Plastic Resolution, Plastic Free Emory are now spreading their efforts to the graduate student body and beyond. They are interested in gauging the Emory community's attitudes towards single-use plastics and Emory's current waste management system. Emory community members are encouraged to follow this link to fill out the 2-3 min survey!
Amelia Conrad (MDP 2016) Presents on Women's Empowerment in Water & Sanitation 
November 20, 2020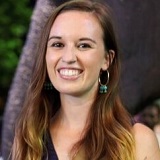 Currently serving as Senior Public Health Program Associate with the MUSE (Measuring Urban Sanitation and Empowerment) Project, Amelia discussed the development of a tool to measure women's empowerment in WASH interventions in low- and middle-income countries. The project, led by Drs. Bethany Caruso and Sheela Sinharoy, who also presented during the panel - consists of a four-phase study with thousands of women in eight urban hubs across Africa and South Asia. Amelia has worked across the Global South on gender justice and gender-based violence, including internships with CARE and the Carter Center. In her third year with MUSE, her work involves collecting and analyzing quantitative and qualitative data, coordinating in-country survey and interview implementation, collaborating with implementing partners, contributing to reports and manuscripts, and managing graduate student interns. Currently, Jill Pritts (MDP 2022) interns with MUSE and alumna Bianca Patel (MDP 2020) did so as well. The panel was hosted by Emory University's Hubert Department of Global Health and the Center for Global Safe WASH.
MDP Alumna Participates in Webinar on Georgia Climate & Human Health 
November 2, 2020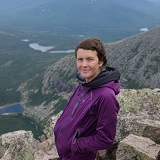 Claudia Langford Brown (MDP 2014) works as a Health Scientist in the Climate & Health Program of the CDC and was one of four experts featured in a webinar on the risks posed by climate change to human health in Georgia. The event was hosted on October 28th by the Georgia Climate Project, a statewide network of universities and stakeholders to improve understandings of climate change impacts and solutions. The project's Georgia Climate Information Portal has just launched a new Climate & Health page. In her presentation Claudia discussed the Heat & Health Tracker tool available on the CDC website, which provides information at different timescales to help communities in the US prepare for extreme heat events. High temperatures can be particularly harmful to vulnerable groups, such as the elderly and the urban poor, thereby exacerbating health disparities. Claudia began interning at the CDC's Climate and Health Program as an MDP student, and she was onboarded after graduation, first as an ORISE Fellow and then as regular staff. We are proud of our alumna who is doing such life-saving work! 
Prof. Wes Longhofer Co-Authors Book on Pollution and Emissions Policy
October 27, 2020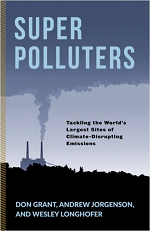 MDP Advisory Committee member and teaching faculty, Dr. Wesley Longhofer co-authored a trailblazing book about pollution in the energy sector. Super Polluters: Tackling the World's Largest Sites of Climate-Disrupting Emissions (Columbia University Press, 2020). Co-authored with Don Grant and Andrew Jorgenson, the book investigates fossil-fueled power plants across the globe. By far the largest contributors to net carbon-emissions, these super polluting plants exploit their economic and social functions to avoid accountability as they hide behind the premise that new technologies will inevitably reduce emissions. The authors take issue with this premise and point to the importance of social movements in shaping the conversation around climate-change policy. Super Polluters helps cut through the fog (or is it smog?) in climate debates by interrogating basic assumptions around climate-disruption and highlighting how the most effective and viable emission reduction strategies will need to target the world's most reckless polluters first. 
Coverdell Fellows Meet & Greet Trivia Night
October 8, 2020

Emory MDP, together with the School of Nursing and the Rollins School of Public Health, hosted a "Meet and Greet & Trivia Night" for current Emory Coverdell Fellows. Emory is a partner university in the Coverdell Fellowship program, which provides tuition relief, preferential eligibility for federal jobs, and professional experience in underserved communities in the U.S. for Returned Peace Corps Volunteers (RPCVs). Since the Coverdell program's formation, more than 5,000 fellowships have been awarded to RPCVs. Many MDP students and alumni have served in the Peace Corps and view their experiences as milestones in their professional and personal lives. Bella Cockerell (MDP 2021, pictured right) served with the Peace Corps in Kosovo from 2015 to 2017 and is one of 10 Coverdell Fellows currently enrolled in the Emory MDP program. At trivia night, she competed on the "Braided Bunch" team, which was narrowly defeated by a team named, aptly, "#Winners."
MDP congratulates Prof. Kristin Phillips for winning SEA book prize
September 15, 2020
A core faculty and advisor for MDP students for several years Prof. Kristin Phillips is one of two winners of the 2020 Society for Economic Anthropology (SEA) Book Prize  for her book An Ethnography of Hunger (Indiana University Press, 2018). Based on extensive fieldwork in Tanzania, Prof. Phillips' book focuses on the interplay of subsistence, politics, and development. Writing against stereotypical media images of famine in Africa, she examines how rural people survive through seasonal cycles of scarcity and plentyas well as through phases of electoral politics and development policies. She documents how they pursue subsistence by mobilizing different rights and reciprocities, a form of political engagement that she calls "subsistence citizenship." Prof. Phillips argues that studying subsistence is essential to understanding why global poverty persists and why development projects succeed or fail. 
MDP Class of 20202 engages in virtual scavenger hunt!
August 20, 2020
With Covid-19 disrupting the start of Fall semesters nationwide, MDP's Fall orientation has had to go semi-virtual. As of now roughly a quarter of the incoming class of 2022 lives outside of the Atlanta area, wherever they currently call home. Having attended their orientation meetings virtually, some students have now had the chance to explore their new educational environment at a distance. MDP's yearly scavenger hunt sends the incoming cohort out in small groups to scour campus and the greater Atlanta area in search of notable sites and a few hidden gems. To complete the hunt, students must snap pictures or answer questions that require them to explore their new surroundings together. This year's pictures are a little less populated, but more noticeably, MDP students are showing the world how to get together while keeping a safe distance, whether that means six feet or thousands of miles apart! See images here.
In the age of COVID-19 MDP students do remote summer internships
July 22, 2020
The summer field practicums in the Global South are a core component of the Emory MDP program. As in previous years, in mid-March 2020 students were preparing to deploy to about 20 countries, when travel was suspended due to COVID19. Working closely with partner organizations, Emory MDP was able to pivot to arranging a new set of summer internships that students could safely engage in. Some students are working remotely with the same projects and partners (e.g. CARE, Save the Children, Habitat for Humanity, Worldreader) they were originally going to serve with. Others secured remote placements with domestically-focused organizations, in some cases opening up new collaborations (e.g. with
Partnership for Southern Equity
,
Conservation Fund
,
Community Farmers Markets,
Georgia Muslim Voter Project
). Students who were unable to secure paid internships were provided with funding to support their service in unpaid internships during the summer months. Emory MDP is proud of its students' resourcefulness and resilience!
Mia Gallegos (MDP '2012) publishes children book on COVID19
July 15, 2020
We are proud to announce the publication of 
Life Is Different for You and Me
, a children book authored by MDP alumna Mia Gallegos and illustrated by Grace Diebel. The book is designed to help children understand viruses, such as COVID-19, and how they spread. The authors hope this book will alleviate anxieties, validate feelings, and empower children to play a role in keeping everyone healthy. An accomplished writer and photographer. Mia was a member of the Emory MDP inaugural cohort. After completing her MDP, she worked for several years with the Emory 
Center for Global Safe WASH
, contributing to research programs focused on water, sanitation, and hygiene in Africa and elsewhere. She is now studying to become a pediatric nurse practitioner at Emory's School of Nursing, due to graduate in December 2020. Congratulations Mia!
Emory MDP stands in solidarity with Black students and People of Color against racism 
June 10, 2020
Emory MDP faculty, staff, and students strongly denounce racial violence, injustice, and oppression - and the recent incidents of police brutality - in a
letter to the MDP alumni community
. We painfully recognize that racial harassment, discrimination, and micro-aggressions continue to be active in development practice, hindering recruitment of and leadership by POC. We are committed to honor the memory of George Floyd and other heroes who have fallen in the struggle for social justice through efforts to recruit a diverse student body, embrace an inclusive pedagogy, and promote anti-racist, socially-just development approaches. On June 5, 2020, Emory University held a Solidarity Vigil in remembrance of victims of racist violence. 
Watch here >>
MDP Asst Director writes on alimentary xenophobia in the times of COVID19
June 2, 2020
Dr. Hilary King
, with co-authors
Dr. Yulia Chuvileva
 (MDP Visiting Instructor) and
Dr. Andrea Rissing
 (The Ohio State University), published a think piece in
Social Anthropology
, the journal of the European Association of Social Anthropologists. The article, entitled "From Wet Markets to Walmarts", addresses the presumed role of traditional food markets in spreading the virus. Challenging the assumption that local foodways are inherently unsafe and inferior to industrialized food systems, the authors stress that the latter are also sources of major health risks. Replacing local markets, which provide fresh, affordable, and culturally meaningful foods, with supermarkets is neither sustainable nor desirable, the authors write. Rather, policies should promote food sovereignty and agro‐ecological production, enforceable health and sanitation regulations, reduced meat consumption, and shorter food supply chains. 
See article >>
LGS Dean Lisa Tedesco wins 2020 Jefferson Award
May 11, 2020
MDP congratulates Dean Lisa Tedesco for winning the
2020 Jefferson Award
, which honors Emory faculty and staff for extraordinary leadership and service. Dean Tedesco has led the Laney Graduate School for the last 14 years and, together with Prof. David Nugent (Emory MDP Founder and former Director) she was instrumental in securing the McArthur Foundation grant that enabled us to develop the Emory MDP program. Since the program's inception in 2010, she has been a tremendous advocate for MDP students and alums. 
See article >>
MDP alumna and PhD Candidate in Environmental Health publishes research
May 1, 2020
Wenlu Ye (MDP 2015),  currently a PhD Candidate in the Department of Environmental Health at the Rollins School of Public Health, is first-author of an article entitled "Household air pollution and personal exposure from burning firewood and yak dung in summer in the eastern Tibetan Plateau". The paper w
as published in the journal Environmental Pollution and 
analyzes the sources, magnitudes, and chemical compositions of household air pollution (HAP) and human exposure in traditional Tibetan households. 
See article >>
It's Time to Vote: MDP student spearheading voter registration
April 28, 2020
With Georgia primaries just around the corner, MDP student Sally Hwang wants you to get out to vote! Sally has spent the spring semester helping fellow students and community members register to vote. She is also interning with the Georgia Muslim Voter Project, whose mission is to activate Muslim voters in order to ensure fair representation and social justice. Adapting to the uncertain climate of COVID-19, Sally is working with GAMVP to develop virtual ways to encourage strong civic engagement by diverse groups within the community. 
MDP Asst Director Helps CFM Launch Online Farmers Market
April 23, 2020
Dr. Hilary King supports Community Farmers Markets (CFM), an Atlanta-based non-profit that usually runs ten outfoor farmers markets. In response to the pandemic, CFM has pivoted from traditional farmers markets to an on-line ordering system that maintains food access, continues market opportunities for vendors, and protects public health. 
Learn More >>
Applied Development – Program Evaluation
April 21, 2020
The final applied development course for the Spring 2020 semester will be a three-week course on program evaluation. Over six sessions, students will learn the three primary domains of program evaluation.
Learn More >>
Applied Development – Building Inclusive Markets
April 20, 2020
As part of the Applied Development course series, MDP is offering "Building Inclusive Markets". This 5-session class introduces students to market-based approaches to development.
Learn More >>
Garang Buk Buk (2020) launches crowdfunder to support the Community Resource Center he founded
April 13, 2020
Garang (MDP 2020) came to the United States in 2018 to pursue a dual Master's in Development Practice and Master of Public Health at Emory University. While here, Garang has connected with Books for Africa and collected two metric tons of books with the help of colleagues and friends for the Haddonfield Community Resource Center which he founded in his hometown of Aweil, South Sudan.
Learn More >>
Student Spotlight - Chase Gorishek (MDP 2020)
April 10, 2020
From Peace Corps Guyana to Emory University in Atlanta, GA, Chase Gorishek (MDP 2020) to pursuing a career in the Foreign Service Officer.
Learn More >>
Kayla Bellman (MDP 2020) Guest lectures on Climate Change and Specialty Coffee
March 30, 2020
Kayla Bellman, MDP 2020 provides two guest lectures on the theme of climate change and specialty coffee in the Emory undergraduate course, "The Past, Present and Future of Specialty Coffee: An Integration of Historical, Market and Cultural Perspectives".
Learn More >>
A Bittersweet Return
March 7, 2020
MDP student Rebekah Koch returned to her Peace Corps site during the semester break. She shared her reflections with us about going back and reconnecting with important relationships there.
Learn More >> 
Peace Corps Week: Same Same, but Different: A reflection by Ian Hamilton, MDP 2020
March 5, 2020
Ian Hamilton, a Coverdell Fellow for the Master's in Development Practice program at Emory University, travelled to Zambia to visit his former Peace Corps host family after his 2019 summer field practicum in Ghana. What was meant to be a celebratory reunion turned out to be something he didn't anticipate whatsoever. 'Same same, but different' is his reflection on grief, connection and ultimately the peace that comes after losing a beloved father figure.
Learn More >> 
RPCV Reflections: Peace Corps Week 2020
March 2, 2020
Peace Corps service can be a formative and meaningful experience for the development practitioner. To celebrate Peace Corps Week, we sat down with some of the RPCVs in the MDP Class of 2021 to hear some of their reflections from their Peace Corps service.
Learn More >> 
Who is the Emory Global Development Student Council?
March 1, 2020
Meet the Emory Global Development Student Council and learn more about what they do.
Learn More >> 
Dr. Roncoli Contributes to Intergovernmental Panel on Climate Change
February 24, 2020
For the second time, MDP Director Dr. Carla Roncoli is a contributing author to the IPCC Assessment Report. In this 6th edition (AR6), Dr. Roncoli uses her expertise on climate risk management in agriculture to contribute to the chapter on Africa on the subject of adaptation of food production systems.
Learn More >> 
Taking Spanish Learning to the Next Level
February 17, 2020
MDP offers students opportunities to practice their French and Spanish language skills through student-led language tables. This year, Spanish table discussion leader Adriana Vaca, MDP 2021 has put her unique spin on the Spanish table by providing students with a chance to learn more about Spanish-speaking culture. 
Learn More >> 
Dr. Hilary King participates In a Panel on Global Food Systems
February 13, 2020
On February 5th MDP Assistant Direct, Dr. Hilary King participated in a panel on Global Food Systems. In addition to Dr. King, the panel included two practitioners from CARE, Elly Kaganzi, Deputy Director of Agriculture & Markets, Food and Water Systems, and Andrew Patterson, Senior Technical Advisor, Knowledge Management & Learning. This well-attended panel discussed their diverse experiences applying effective strategies to strengthen global food systems. 
Learn More >> 
Student Spotlight: Pooja Kalapurakkel's Intern Experience with the Center for Civic Innovation
February 12, 2020
During her first semester in MDP, Pooja Kalapurakkel interned at the Center for Civic Innovation as the Fellowship Intern which she found to be a rewarding experience and complimentary to her course work. She shared with us about her experience, which you can find below.
Learn More >> 
Course Spotlight - MDP 514R: Apply Social Network Analysis to Development Practice
January 30, 2020
As a part of the Applied Development series, Apply Social Network Analysis to Development Practice will be offered Spring 2020.
Learn More >> 
Course Spotlight - MDP 514R: Statistical Modeling for Development
January 29, 2020
As a part of the Applied Development series, Statistical Modeling for Development will be offered Spring 2020.
Learn More >> 
Course Spotlight - MDP-514R Refugee Resettlement
January 28, 2020
As a part of the Applied Development series, Refugee Resettlement will be offered Spring 2020. This five-class unit is designed to introduce students to the topic of refugee resettlement including human rights laws, national policies and procedures, and current issues and events. Learn More >> 

Student Spotlight: Abimbola Leslie (MDP 2020)
January 3, 2020
Abimbola Leslie shifted gears in her fourth year of medical school due to her interest in public health. Upon exploration of the public health field she felt a pull beyond the boundaries of public health, to think about alternative approaches to improving the health of the population. She found that answer in the MDP program.
Learn More >>